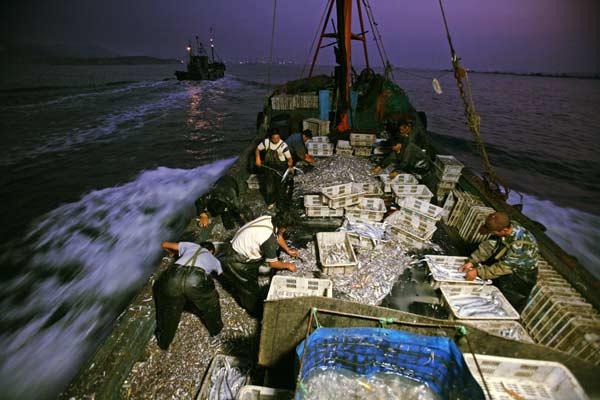 In addition to developing China's high-end marine manufacturing sector, the Qingdao West Coast New Area is also planning to expand deep-sea fishing operations. Qingdao Luhaifeng Foods Group, which operates 14 vessels in the Yellow Sea and East China Sea, lands 280 metric tons of fish per day. PROVIDED TO CHINA DAILY
Qingdao becomes base for offshore exploration, report Xie Chuanjiao and Zhao Lei in Qingdao, Shandong province
Entrepreneurs in the coastal city of Qingdao, Shandong province, are contemplating a boost to their businesses after the launch of China's newest development zone, the Qingdao West Coast New Area.
The zone will act as a base for offshore exploration and will promote innovation in China's maritime sector.
Landing the big fish
The operators of the Qingdao West Coast New Area have pledged that simplified administrative procedures will facilitate relations between investors, entrepreneurs and government departments.
Liu Jijun, head of the area's general office, said the Huangdao district government, which administers the New Area, has handed over the review procedures for a number of sectors to new area authorities to shorten the approval process.
The authorities have also devised a flexible mechanism to attract the best talent, and civil servants are being encouraged to work for the management committee or local enterprises via a series of benefits previously only available to government employees.
In addition, a number of preferential policies have been introduced to facilitate the purchase of residential property and also to ensure that workers are employed in jobs that best suit their talents, Liu added.
The area is planning to recruit internationally, and an expert consultation team is being formed to oversee developments.
By Xie Chuanjiao and Zhao Lei
"We have signed agreements with a company in Hong Kong to sell three of our mobile offshore accommodation platforms at a price of around 100 million yuan ($16 million) each," Zhu Shengkai, deputy general manager of Qingdao Haixi Heavy-Duty Machinery, said at a shipyard on the western shore of the city.
"We have invested tens of millions of yuan in the research and development of maritime equipment, and manufactured mobile offshore accommodation platforms for the United Arab Emirates and Saudi Arabia," he said. "Actually, all of our offshore platforms were bought by people and companies overseas."
Zhu spoke during a visit to a half-constructed accommodation platform that is being built for a Panamanian buyer. Workers were busy installing and testing equipment on the 50-meter-tall structure.
"The size and height of this kind of platform is tailored to the clients' requirements. This one can move at 11 kilometers an hour on the ocean. It can hold a helicopter and enough supplies to maintain operations and workers for up to three months away from land," Zhu said.
The dock was dominated by heavy-duty gantry cranes and other maritime equipment, all lined up in rows prior to being shipped to buyers.
"I am fully confident about my company's future because the establishment of the New Area indicates the central government's determination to promote the maritime industries," Zhu said.
Favorable policies
China Shipbuilding Industry Corp, one of the nation's biggest shipbuilders and the parent of Haixi, has relocated some of its research institutions and manufacturing facilities to the New Area, signaling that the shipbuilding conglomerate is eager to take advantage of the development of the project, according to Feng Cheng, assistant director of the corporation's 712 Institute, which invented China's first marine electric propulsion technology.
Feng said the favorable policies in the New Area will allow the institute to allocate more resources to developing far more advanced propulsion systems, adding that the company has delivered the first domestically developed electric propulsion system for ships along Qingdao's coast, and is building a facility to research, produce and experiment with advanced high-power engines.
Feng's optimism was shared by Liu Jisheng, deputy general manager of Qingdao Luhaifeng Food Group, the city's largest fishing operation.
"The central government has become more attentive to the maritime industries and the ocean economy, significantly injecting momentum into our business expansion," he said, adding that the group is planning to build an ultralow-temperature storage facility with a capacity of 100,000 metric tons.
It also plans to cooperate with local travel agencies to promote fishing and diving tours, and has started an ambitious project to form a chain of fishing-related enterprises in the Indian Ocean.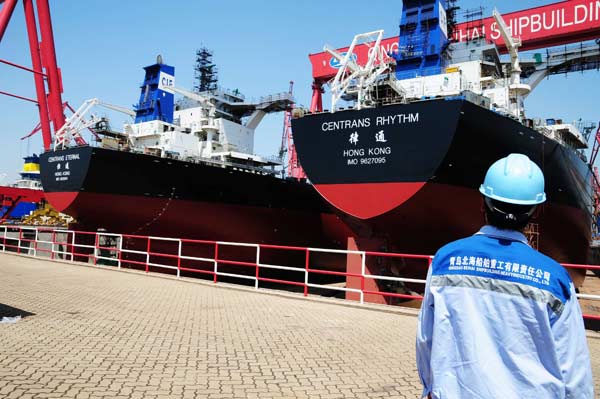 Two newly built 180,000-ton cargo ships at the West Coast New Area in Qingdao. YU FANGPING / FOR CHINA DAILY