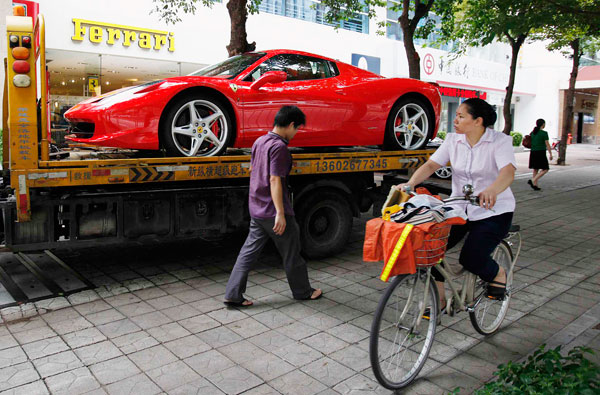 A Ferrari 458 Spider is loaded onto a truck after it was purchased by a young Chinese in Shenzhen, Guangdong province. Ferrari plans to add three new mainland dealerships this year. Bobby Yip / Reuters 
Bentley also said the average age of its Chinese customers is 35, compared with the world's average of 45 and the US average of 61.
"We have many fans of our Continental GT V8 two-door grand touring coupe who are Chinese women, as well as young men in their 20s," said Lofkin. However, "A Bentley is always the choice as the last car in life of a US rich person.
"The large number of female customers from China made us pay a lot of attention to their different habits and requirements."
Lofkin told China Daily that although the headquarters are in the UK, the engineers of Bentley have researched and then designed special colors for Chinese women, including pearl pink and dragon red.
In 2012, Bentley for the first time designed a special course for female drivers as part of its driving experience marketing initiatives in China, encouraging more women customers to try out the pleasure of driving the powerful sports car.
Italian sports car producer Ferrari SpA CEO Amedeo Felisa also recognized the younger ages of Chinese customers and the different gender ratios.
"We noticed our Chinese customers' ages are 10 years less than the world average. And 25 percent of them are no more than 30. Moreover, the share of women owners is larger than other markets in the world," he said.