Luxury autos, youth sports form winning combination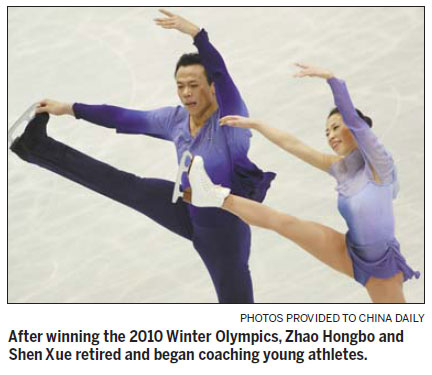 Fostering more talented youth is the key to developing the sport of figure skating in China, said Zhao Hongbo, former Olympic champion and coach of the national youth figure skating team.
Zhao and Shen Xue, his wife and partner on the ice, announced their retirement after winning the 2010 Vancouver Winter Olympics.
"We have already reached the goal of winning the Olympic Games, so fostering new champions has become our next goal," Zhao said.
Zhao's attitude echoes BMW's long-term commitment to supporting youth sports in China. As the sponsor of the national youth figure skating team, the automaker aims to further promote this sport by bringing more talented young people to international stages.
"Figure skating is a sport for which training should start at an early age. Some talented children can compete in international events at 13," Zhao said.
Many gifted children are forced to give up in the middle of training because their families cannot afford it.
However, with support from BMW, more talented kids get the coaching they need to compete on the international stage, Zhao said.
Zhao, 40, has been practicing the sport for 34 years.
"From a child who knew nothing of the sport to someone on the world's highest medals podium - I find that figure skating is not just a sport but more of an art," he said.
"Many artistic elements of this sport still need to be explored," he added.
China's figure skating still has to be improved in terms of choreography, and it needs a lot of financial support, he said.
Currently, young figure skaters are mostly from the northeastern provinces, where many children develop talent in winter sports due to the cold climate.
Zhao said he hopes more athletes will be found in the southern provinces in the future to enrich the national team.
More than just a sponsor of figure skating, the BMW brand is the embodiment of the ideals of the sport.
"BMW cars are a combination of beauty, accuracy and dynamics, which is also the essence of figure skating," Zhao said.
Zhao and Shen are fans of BMW. Zhao purchased a BMW X6 SUV for himself and a 5 Series GT for his wife last year.
"It was almost love at first sight," Zhao recalled the experience. "I like X6's styling. It's dynamic and easy to handle. It makes me feel safe."
A survey done by BMW showed that many Chinese Olympic champions choose the brand.
The wide acceptance reflects the similarity between BMW's brand culture and the spirit of sports.
Unlike other automakers that use sports for brand promotion in China, BMW is focusing more on supporting talented young people.
In addition to figure skating, the automaker is also an active supporter of youth golf.
BMW was the sponsor of the China Youth Golf Team, and it will continue to support the sport through the launch of its own junior golf program this year.
The program aims to promote the sport among the young people, offering them opportunities to take part in national and international events.
In addition, BMW has also funded basketball programs in Hope Primary Schools through its BMW Joy Home Child Care Program, which was officially launched in June 2011.