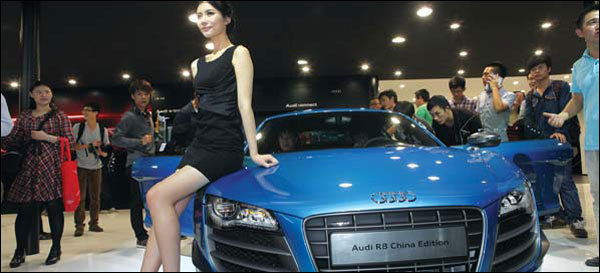 Audi, the top premium brand in China in terms of sales, sold nearly 30,300 units in February, a 3.5 percent year-on-year decline. [Provided to China Daily]
China's luxury car market has gotten off to a slow start in 2013 after several years of strong growth, according to recently released sales statistics for the first two months.
Most of the dominant German brands saw slower growth in sales in January and February compared to previous years, while numbers even declined for some.
Audi, the top premium brand in China in terms of sales, sold nearly 30,300 units in February, a 3.5 percent year-on-year decline. This was partially due to fewer working days last month because of the Spring Festival holidays.
Last year, the lunar Chinese New Year was celebrated in January.
Even with the drop in February, Audi's combined sales in the first two months still grew 16 percent year-on-year. However, this is significantly slower relative to the 30 percent growth seen last year.
BMW, the second-largest premium carmaker in China, sold more than 53,800 cars in January and February in the first two months, a 9 percent increase over a year ago.
By comparison, the carmaker's sales surged by 40 percent last year.
Sales for another major premium carmaker, Mercedes-Benz, dropped 47 percent in February, during which the company only moved 10,134 vehicles.
Its tally for the first two months was more than 26,800 units, a 20 percent decline from a year earlier.
Meanwhile, the nation's overall passenger car sales in the first two months increased 20 percent over the same period last year to nearly 2.84 million units, according to statistics from the China Association of Automobile Manufacturers.
"The size of China's luxury car market reached 1.2 million units last year, and it is normal for the growth rate to slow down a bit on such a big base," said Yale Zhang, director of industry consulting firm AutoForesight (Shanghai) Co Ltd.
Lin Huaibin, an analyst with consultancy IHS Automotive, said that the results could also be partly due to last year's price war in the premium market, which encouraged some buyers to act early.
'Exceptional' factors
Zhu Bin, an analyst with LMC Automotive Asia Pacific Forecasting, noted some "exceptional" factors that caused the results.
Mercedes-Benz was in an "adjustment period" in January and February because its new integrated sales company became operational only at the beginning of this month, he said, indicating that sales will improve later this year.
"As for BMW, the company is still striving to pump up the capacity at its new plant in Shenyang," Zhu said.
All three analysts believe that the luxury car segment will maintain a faster growth rate than the overall passenger car market throughout the year as local customers continue to seek better brands and products.
Luxury car sales now account for 8 percent of China's total car market, while the penetration rate in the US is around 17 percent and in German it is about 28 percent, Lin said. "There's still much room for growth," he said.
Zhu agreed, saying more products are being made locally, smaller models are being launched and prices are being driven down.
"All these factors will stimulate the consumption of premium cars," Zhu said.
He noted that LMC forecasts China's luxury car sales will grow by about 18 percent this year to 1.4 million vehicles.
Similarly, IHS predicts a 16 to 17 percent growth in the nation's luxury car sales this year, while passenger car sales are expected to increase by 13 to 14 percent.
Lin said that the rapid growth of passenger car sales in the first two months will not be sustained for the year.
When some automakers met their business targets last year, they reserved the extra sales to make the beginning of this year look better, he said.
hantianyang@chinadaily.com.cn