Auto majors rejig product lines, offer discounts to sustain demand in China
After several years of solid sales growth, the luxury auto segment appears to be heading for a slowdown in China, as growth concerns may prove to be a spanner in the works for global automobile majors.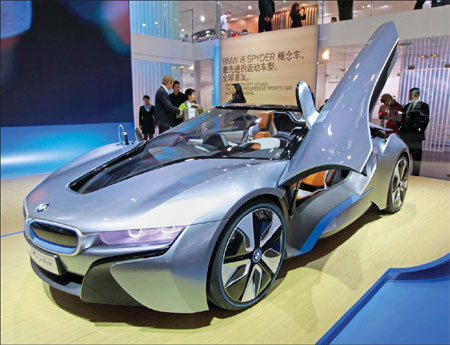 The latest BMW concept vehicle i8 Spyder is on display during the Beijing International Automotive Exhibition in April. [Photo/Agencies]
Though most of the auto majors still anticipate growth in China, they admit that luxury car sales will never reach the dizzying heights of the last two years.
Although the premium car segment will continue to outperform the average market, it will be tough for individual companies to achieve the margins of previous years, say auto industry analysts.
But they admit that European brands will still continue to dominate the market for some time.
German carmaker Volkswagen's Audi brand sold 36,000 vehicles in China during October, a 30-percent growth over the same period in 2011, thanks to its popular models A6L and Q5. The brand has sold more than 330,000 vehicles in China from the beginning of the year.
Although Mercedes-Benz's sales volume declined by 3.9 percent in the same month to around 16,000, it still clocked a 6-percent growth in China sales during the first 10 months of the year with 160,000 deliveries.
Both these premium brands are well aware that they will never achieve the over 40-percent growth rates of the last three years. What, however, still gives them enough optimism on China is that their growth rates are still better than the anticipated annual growth rates of around 7 percent for the overall automobile industry in China.
Friedrich Eichiner, chief financial officer of BMW, told Reuters in a recent interview that although the company anticipates double-digit growth in the mid-term, it would be hard to post a growth rate of 30 percent in the long run.
During the first nine months, BMW's sales rose by 30 percent to nearly 240,000 units. Thirty years ago, China accounted for less than 4 percent of the total global BMW sales and has since then leapfrogged to be the single largest market for the German company.
"The Chinese market gives auto companies confidence as none of them are making money in Europe," says Ivan Hodac, secretary-general of European Automobile Manufacturers Association.
Budget models are already squeezing profit margins and gaining market share and premium cars are now slowly feeling the pinch, experts say.
Unlike previous years, there are no long lines of customers or those who are willing to pay extra money to own the vehicles.
Over the last few months, several automobile companies like Mercedes-Benz have announced hefty price cuts of over 200,000 yuan ($32,000; 25,000 euros) on their premium models to push sales.
The competition in the Chinese market is getting increasingly fierce, and as a premium car manufacturer, BMW does not want to grow market share with discounts, Eichiner says. He expects discounts will taper off in the premium segment as the market is recovering.
But the competition landscape has definitely changed for European marquee names. A decade ago, there were few premium brands in China, but now, there is virtually every known premium car brand in China.