Words help provide a refuge from harsh rural reality, Peng Yining reports in Xiji, Ningxia.
For 30 years, potato farmer Zhang Lian plowed his fields during the day and wrote poetry at night. In the harsh environment of Northwest China's Ningxia Hui autonomous region, writing was his only hope and provided a source of spiritual solace, said the 45-year-old.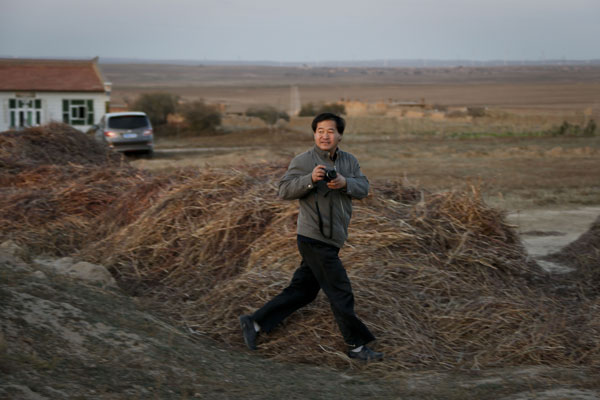 Zhang Lian, 45, a farmer during the day and a poet at night. Photos by Kuang Linhua / China Daily
In 2001 a severe drought devastated Zhang's 60 mu (4 hectares) of potatoes and sunflowers, the crops best suited to Xiji's infertile soil and the only source of income for the family.
On Chinese New Year's Eve 2001, Zhang tried to sell an old sheepskin, the last item of value he owned, to buy a pack of hard candy he had promised his 7-year-old son. He failed.
Feeling desperate in the icy winter wind, Zhang walked slowly back to his mud-brick home, 20 km from the street market.
Firecrackers exploded on the dusty, rural streets, decorated with red lanterns and the village was full of people rushing home to spend the most important holiday of the year with their families.
Zhang was unable to share the excitement. "I didn't even know where the next meal would come from," he said. "I came home with nothing but the unsold sheepskin."
That evening Zhang, who dropped out of middle school because his parents couldn't afford to keep him there, took out his diary and began writing the first draft of a poem:
I walk
With my skin in my hand
Owning not even a penny
Only my skin
In my hand ...
"I was so desperate, embarrassed and humiliated that I felt I was walking with my skin peeled off and all my flesh exposed," he said. "It wasn't just the sheepskin I was referring to in my diary," he said.