US presidential campaign again targets China, Chen Weihua reports in New York.
When President Barack Obama and Republican challenger Mitt Romney faced off in the second presidential debate on Tuesday, both grabbed every opportunity to display a tough stance on China.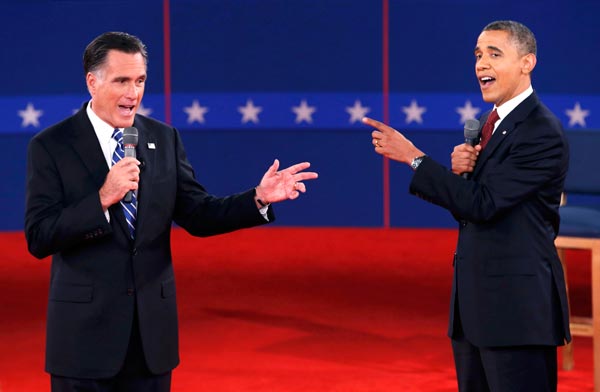 US Republican presidential nominee Mitt Romney and US President Barack Obama during the second presidential debate in New York.[Mike Segar / REUTERS]
China was mentioned dozens of times during the 90-minute debate, with questions from the audience covering both domestic and foreign policy, ranging from jobs, taxes and immigration to energy, gun control and equal opportunities for women.
Only the first reference to China, by Obama, was positive, when the president accused Romney of not having a clean-energy plan.
"China and Germany are making these investments (in clean energy)," said Obama, who appeared much more aggressive and confident than during his performance in the first debate.
In outlining his five-point economic plan, Romney said he will expand trade with Latin America, "cracking down on China when they cheat." The presidential hopeful has used those words repeatedly during the campaign.
"I will crack down on China. President Bush didn't," said Romney, in answer to a question on the differences between himself and Obama's predecessor George W. Bush.
Obama hit back immediately: "When he talks about getting tough on China, keep in mind that Governor Romney invested in companies that were pioneers in outsourcing to China. Governor, you are the last person who's going to be tough on China."
The president then touted his tough stand on China, saying that his administration has brought twice as many cases against alleged unfair trade practices than the previous administration. "We won every single one that has been decided," he said.
Obama then blasted Romney for calling him a "protectionist" after the imposition of punitive tariffs on Chinese tires more than two years ago. "We saved thousands of jobs," he said.
However, the president didn't mention that the cost of tires has risen since the tariffs were introduced.
Romney refuted Obama's allegations that he has invested in Chinese companies. He said many of his investments have been managed by blind trusts during the past eight years. "Mr. President, have you looked at your pension? You also have investments in Chinese companies, investments outside the United States," said Romney.
The fiercest attacks on China came when both candidates were asked about outsourcing of US jobs.
While saying China is now the world's largest manufacturing nation, a position formerly held by the US, Romney said that when the US trades with other nations, it has to ensure that those nations play by the rules.