China has had an uneasy relationship with sex over the past few decades. Until relatively recently, public displays of affection were often frowned upon. However, the 250,000 visitors to a recent sex fair in Guangzhou may indicate a change in contemporary attitudes, and as Shan Juan reports, sex hasn't always been regarded as taboo in China.
Ma Xiaonian, chief physician at the sexology department of Yuquan Hospital at Beijing's Tsinghua University, likes his work.
In addition to his clinical duties, Ma is also a collector of materials relating to the "birds and bees". However, he's recently become worried about the "treasures," he's collected over the course of the past two decades.
The 1,200 pieces, mainly artifacts dating back 2,000 years, include a huge Shang Dynasty (c. 16th-11th century BC) jade carving in the shape of a penis, a silver penis holder depicted in the Ming Dynasty (1368-1644) novel Jin Ping Mei, often translated in English as The Plum in the Golden Vase, which was used to help men maintain erections for longer, and ceramic items from the Qing Dynasty (1644-1911), featuring highly explicit images.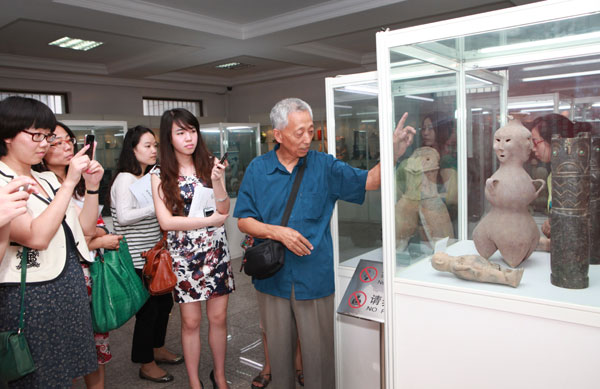 Ma Xiaonian displays his collection of materials relating to sexual matters at his museum in Beijing, which was believed to be one of the few museums of sexual culture in China. Provided to China Daily
The pieces were, until recently, on show in North China's only museum of sexual culture, but are now in storage. China has two other sex museums - one in Suzhou, Jiangsu province, and the other in Shaoguan, Guangdong province, which opened in 2004.
"My collection is now 'homeless,' and the pieces are lying on the floor of a warehouse, with no one to view them," said Ma.
Ma's museum closed in late September, because the building - located outside Beijing's West Fourth Ring Road - is undergoing a year-long process of renovation.
Taboo subject
Because of his academic specialty, Ma was first drawn to collecting sex-related artifacts in the late 1990s. So far, he has collected more than 2,000 pieces in total.
"The most expensive cost me 100,000 yuan ($16,000)," he said.
Aged 68, Ma wears casual shorts and looks a little shy, but he talks about his work and his collection with supreme ease.
In his career, he has treated more than 20,000 patients with sexual problems, such as erectile dysfunction, low libido and premature ejaculation, and is the only Chinese sex therapist to have been recognized by the American Board of Sexology and Sex Therapists.
"I've never sold a single item from my collection, despite the occasional high offer, and my only wish has always been to find a permanent home where they can be appreciated by the public. That wasn't easy, though, given that sex remains a taboo subject in China," he said.
Thanks to cooperation between Ma and the Population and Family Planning Administration of Beijing's Shijingshan district, the museum, which comprised roughly half of Ma's collection, opened in 2003 on the fourth floor of the administration's office building.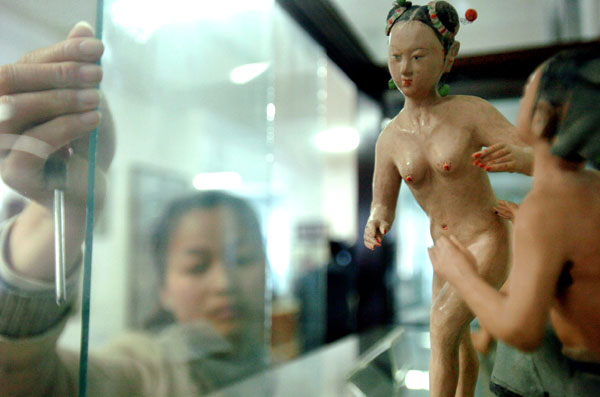 Visitors at the last day of a sex museum in Shanghai, prior to its move to Suzhou in March 2004. Provided to China Daily