The heavy rains that lashed Beijing on the weekend caused chaos for the capital's transportation systems and paralyzed a huge number of low-lying areas, mostly those with poor drainage facilities. The storm clouds rolled in at around midday on Saturday and lasted more than 20 hours, resulting in the most devastating downpour in the Chinese capital for 61 years.
Data from Beijing Meteorological Bureau show that urban areas in the municipality were inundated by 170 millimeters of precipitation during the deluge. In the hardest-hit area, Hebei town in the southwestern district of Fangshan, the rainfall reached 460 mm. The destructive force of the storm left 37 people dead, injured many others and caused widespread damage to buildings, infrastructure and crops. In the 12 worst-hit counties in Fangshan district, power, water and communications systems were widely disrupted, according to the Beijing emergency management office.
Ground transportation
Major roads were gridlocked and some subway services were suspended. Across the city 7,000 traffic police were called in to help direct traffic.
Photos uploaded to micro blogs showed people swimming in the deep water that clogged the roads. Some people joked that the rain had turned the capital into a huge swimming pool.
"It sounded as if the sky had cracked. The water on the ground was just like an ocean wave, driven forward by the strong winds," said Zheng Lili, who was stranded at Beijing Railway Station during the downpour.
On major thoroughfares, including the 2nd to 4th ring roads, many overpasses were waterlogged. A 34-year-old man drowned when he was unable to break free from his car, which was stranded in deep water under Guangqumen Bridge on the East 2nd Ring Road. Hundreds of motorists abandoned their broken-down vehicles.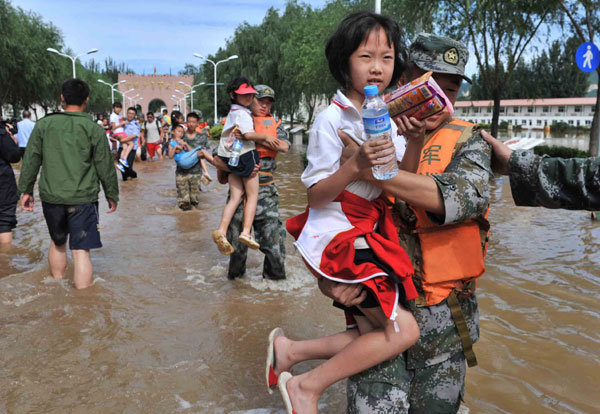 Rescuers evacuate pupils on Sunday, after they were trapped by heavy rain, from a military training center in the Fangshan district of Beijing. [Photo/Xinhua]