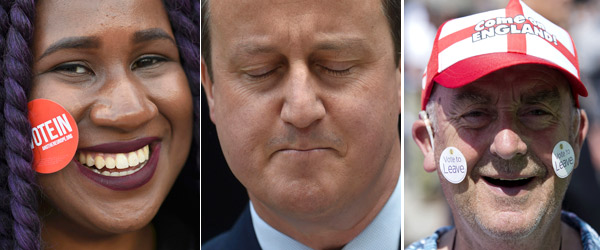 British Prime Minister David Cameron is flanked by a Brexit opponent (left) and a supporter. Cameron leads the campaign to remain in the EU. Photos by Reuters
Britons are edging closer to voting in favor of remaining in the European Union in Thursday's referendum, a result that would please many of the UK's closest allies.
An opinion poll carried out before the referendum by The Daily Telegraph — a consistent supporter of leaving the EU — showed that of those who say they will definitely vote, the Remain campaign is leading with 53 percent, against 46 percent for the Leave campaign.
The Remain campaign is headed by Prime Minister David Cameron, while the Leave campaign is headed by former London mayor Boris Johnson and Secretary of State for Justice Michael Gove.
Many other polls in recent days have shown the Remain camp easing ahead, although many commentators in Britain are saying the result is still too close to call.
UK betting company Ladbrokes said that based on the bets being placed, it is forecasting a 78 percent chance of remaining, with only a 22 percent chance of leaving.
Ladbrokes correctly forecast the result of last year's general election, which saw a surprise clear majority for Cameron's Conservative Party, despite opinion polls having predicted either a loss or a hung parliament, with no single party in power.
Much hangs on this vote. In China, Juwai.com, an international property portal, said a survey showed 51 percent of the 411 respondents said they had temporarily put on hold property transactions in the UK pending the outcome. Only 25 percent said they intended completing deals before the vote.
"The overall picture here is one of uncertainty," the site's UK head Bernie Morris said.
JLL, a global real estate services company, said its survey of 100 companies showed a similar trend, with 45 percent of investors questioned saying they would adopt a wait-and-see attitude.
Many of Britain's allies, including China, would be expected to welcome a decision to stay in the EU.