Chinese products and brands ruling the world are not news anymore. However, the hurdles that the enterprises and their executives face in the English-speaking global marketplace still exist. English proficiency is not an easy task.
Tech giant Lenovo's Tech World 2016 last week impressed me not only for its launch of two cloud devices but for the effort that CEO and Chairman Yang Yuanqing has made over the years to attract international consumers, including his adoption of English as his international work language.
Dressed in a typical tech workforce outfit - shirt, khaki pants and sneakers - Yang looked like a Silicon Valley engineer until he took center stage and started talking.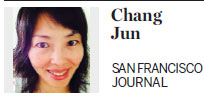 "They (assistants/organizing committee) told me in San Francisco to use the word 'pitch', not to 'give a speech'," Yang said, adding that he also was advised on what to wear.
The audience of Lenovo fans, industry leaders and analysts at the packed Masonic Auditorium burst into laughter and gave the boss a rousing welcome.
Yang reportedly hardly spoke a word of English until he turned 40, when Lenovo bought IBM's personal computer division in 2005.
Hopeful of honing his English, Yang moved his family to North Carolina (the location of Lenovo's US headquarters), hired a native tutor and spent hours watching TV news.
His efforts apparently yielded fruit. Whether presiding over board meetings with global stakeholders or answering questions raised by Western media, he is able to conduct all of his business in English.
Not many Chinese executives speak English. They usually can be seen using interpreters or showing Power Point slides with English subtitles while speaking in Mandarin.
The situation is changing, though. A growing number of multinationals with headquarters in China are expanding internationally and have made English their official language.
In April 2015, when Lei Jun, chairman and CEO of smartphone producer Xiaomi, spoke at a news conference in New Delhi to announce the launch of a new product, he stumbled through his speech. It was his first time using English overseas.
"Hello, how are you," the billionaire greeted the Indian audience. "I'm very happy to be in China," he said before correcting himself - "to be in India".
Seeking to generate enthusiasm by shouting, Lei announced a free Xiaomi smart wristband for each attendee and asked the public, "Are you OK?"
Amused by his heavy accent and clumsy vocabulary, Chinese social media users tuned his "Are you OK?" phrase into an overnight meme. Many posts made fun of Lei's speech; others, however, supported the attempt and his courage for trying English.
Both Yang and Lei and any Chinese executives trying to communicate in English deserve respect for their gutsy efforts.
First, it shows commitment and dedication to customers. Their presentations are not perfect, and they have more work to do on their speechmaking.
However, I don't think audiences would have difficulty understanding what the Chinese executives meant.
Speaking English is more than a friendly gesture; it indicates how much the Chinese enterprises care about the international market in that executives would risk embarrassment trying to communicate in a universal business language.
Second, adopting English is an important strategy for Chinese companies going global. In 2015, Chinese investment in the US reached $22 billion, with diversified allocations across industries including finance, agriculture, tourism and consumer-oriented businesses.
Chinese enterprises will continue their acquisitions, according to a forecast by the American Enterprise Institute. Using English as working language will make it easier for pioneering companies to recruit overseas talent, including board members. It also will help them reach a broader world market and complete international mergers and acquisitions according to global standard and customs.
In short, speak to your customers in their own languages; it's rewarding even when you make mistakes on the road to globalization.
Lei Jun, in response to his speech in India going viral, wrote on his social media account: "There are more and more international Xiaomi fans. Indeed, I should learn English well and not let you down."
Contact the writer at junechang@chinadailyusa.com