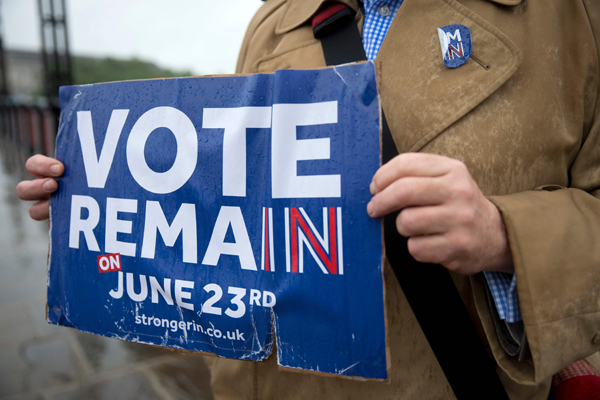 Campaigners hold placards for 'Britain Stronger in Europe', the official 'Remain' campaign group seeking to avoid a Brexit, ahead of the forthcoming EU referendum, in London on June 20, 2016.[Photo/VCG]
LONDON - Support for Britain remaining in the European Union stood at 53 percent with support for quitting the bloc at 46 percent, according to a poll by ORB for the Daily Telegraph newspaper.
The newspaper said this represented an eight-point net reversal from last week, when Leave held a one-point lead among definite voters with 49 per cent to "Remain's 48 percent.
Respected social research body NatCen also published a poll that found Remain on 53 percent and Leave on 47 percent, using a method that took on recommendations by an official inquiry into why pollsters got last year's election wrong and conducted from May 16 to June 12.
However, an online poll by YouGov for The Times showed Leave ahead on 44 percent, up one point, with Remain on 42 percent, down two points. That survey was conducted over the weekend after Cox was killed.
Those wishing to stay in the bloc, including Prime Minister David Cameron, have focused on what they describe as the economic advantages provided by EU membership and the risks posed by leaving.
Those arguing to quit have focused on what they say are pressures on public services and jobs created by high immigration levels that cannot be reduced due to EU freedom of movement rules.
Prior to the murder of Cox polls had shifted towards "Leave".