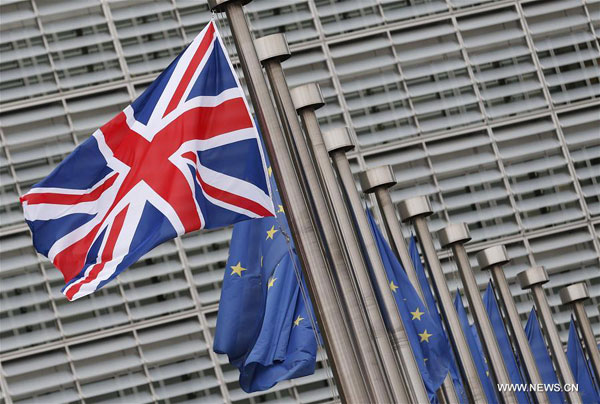 Photo taken on Jan 29, 2016 shows the UK and EU flags outside the European Commission headquarters in Brussels, Belgium. [Photo/Xinhua]
LONDON - Latest polls, as Britain's referendum on continued membership of the European Union neared, sent shockwaves through business and financial circles Monday.
After weeks of an almost 50-50 split in the remain and leave camps, new polls indicate a major surge towards the so-called Brexit campaign.
The FTSE 100 ended the day down by 70.79 points, or 1.16 percent, at 6044.97, its lowest close since the second week in March.
Sterling seesawed on Monday as investors reacted to growing uncertainty over the referendum. The British pound was volatile throughout Monday, initially slipping to an eight-week low against the U.S. dollar but later recovering to trade 0.14 percent higher at 1.4275 U.S. dollar. Against the euro, sterling ended down 0.26 percent at 1.2647.
One poll indicated a 19-point leave for Brexit, prompting the London-based Daily Express to headline a story "End of EU rule FINALLY in sight".
Worst still for the Remain camp, an up-to-the-minute poll released Monday night local time in Britain heaped more gloom in the Britain Stronger in Europe campaign headquarters.
The new poll by ICM for the Guardian newspaper showed support for leaving the EU is strengthening, with phone and online surveys reporting a six-point lead.
Of those who gave a conclusive answer, it gave leave 53 percent support, compared to Remain's 47 percent once the "don't knows" were excluded. The research was carried out over the weekend and compared to a 52-48 split two weeks ago which had also put Brexit ahead by four points.
The Guardian in an editorial said the figures will make grim reading for Prime Minister David Cameron and Chancellor of the Exchequer George Osborne, as well as the opposition Labour Party.
Professor John Curtice of Strathclyde University said the poll, which is an average of a selection of polls, would now show 52 for leave and 48 for remain, with the academic saying it is the first time leave has been in such a strong position.
ICM's latest research also shows the number of people still undecided has fallen to 6 percent, compared to 13 percent who declared themselves a fortnight ago as undecided.
It appears that warnings about a looming catastrophe in the event of a vote on June 23 to leave Europe has had the opposite effect.
A weekend opinion poll, commissioned by the Bruges Group think tank, delivered the biggest margin for Brexit so far in the campaign. Its survey found 52 percent in favor of leaving, compared to 33 percent wanting Britain to stay in the EU. Crucially around 15 percent declared they hadn't made up their minds which way to vote.
Bruges Group director Robert Oulds said: "This new poll shows there are a majority of voters who prefer an economic rather than economic and political arrangement with the EU. These include people who might otherwise have voted to remain in the EU."
The newspaper's own in-out poll shows 91 percent of its readers, or over 171,000 people, clicked the leave button.
The first signs of a changing landscape came Friday when a poll for the Independent newspaper carried out by ORBO reported a clear lead for leave. The ORB/Independent online poll put leave on 55 percent and remain on 45 percent.
With voting day just over a week away, it seems many people are either changing their minds and switching allegiances or have finally decided how they will vote.
Meanwhile, the Remain campaign continued to hammer home what they say will be the consequences of Britain voting to leave Europe, warning of a "lost decade" as the country seeks new trading pacts.