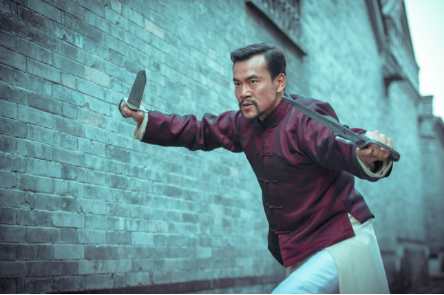 Liao Fan stars as wing chun kung fu master Chen Shi in Xu Haofeng's The Final Master, which opens in four US cities on Friday. UNITED ENTERTAINMENT PARTNERS
I wonder how many people knew that Tianjin was once the center of Chinese martial arts.
Xu Haofeng's latest martial arts drama — The Final Master — is set in the North China coastal city before World War II.
The film, produced by Beijing Century Partner Culture & Media Inc and Heyi Pictures, originally was released in China in December 2015.
After a showing at the Seattle Film Festival last week, The Final Master (in Mandarin with English subtitles) will make its North American theatrical debut on Friday in New York, Los Angeles, Boston and Washington.
Liao Fan stars as wing chun kung fu master Chen Shi. Chen was forced out of Canton (Guangdong) after an insurrection. He promised his dying shifu (master) that he would keep wing chun alive, so he heads north to Tianjin with plans to open a local academy.
Along the way, Chen marries Zhao Guohui (Song Jia), a sharp-tongued waitress in a fancy Western-themed restaurant, shamed in the community because she gave birth to a son who was not fully Chinese.
Her tempestuous and somewhat mercenary relationship with Chen stabilizes the movie, with the couple's indifference eventually looking like love.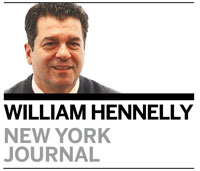 Chen is told by local grand master Zheng Shan'ao (Jin Shi-Jye) that an outsider will never be accepted in Tianjin martial arts, so he finds a local tough, Geng Liangchen (Song Yang), to train as an apprentice.
If Geng can defeat the best fighters from eight Tianjin dojos before losing to Zheng, Chen will get to open the school.
But Chen's plans for the academy are blocked by the widow Madame Zhou (Jiang Wenli), who colludes with warlord Lin Xiwen (Huang Jue), a former pupil of Zheng's, to derail Zheng and Chen's plan. Together, Zhou and Lin want to militarize all the city's kung fu schools.
The film features stunning sets and costumes, along with some outstanding clanking and whooshing of knife blades of all shapes and sizes, as Chen is a master knife fighter. The movie is expertly paced with quiet scenes of reflection followed by bone-crunching fighting. It also features some humorous one-liners.
In one scene, a local pickpocket lifts Mrs. Chen's purse, and she and Chen give chase. The master brutally disposes of five challengers, enraging an elder member of the crew. He says he will bring back 100 men to destroy Chen.
Chen thinks about it for a moment, and says, "Can you bring back 20?"
In another scene, Chen was slashed in the chest during a training session. His protégé later sees the wound and asks what happened.
"I cut myself shaving," Chen replies.
Director Xu wrote in the production notes that after the Republic of China was established in 1912, local military forces gained power, eventually expanding "into the social and economic sphere".
"The protagonist in the film is a martial artist from the South attempting to promulgate his arts in the North," Xu said. "Southern martial arts style is very clean, simple and individualistic, which contrasts strongly with the style of the North. The Northern martial arts style is heavily influenced by being the political center ... full of ritualistic and stately moves."
Xu is known for his best-selling novel, Monk Comes Down the Mountain, and his screenplay for Wong Kar-wai's The Grandmaster.
Monk Comes Down the Mountain was later adapted into a film in 2015 that earned $38.25 million on its four-day opening in China.
In 2014, Xu published the novella The Master, the basis for The Final Master.
I found The Final Master captivating, and I think it would appeal to more than devotees of martial arts films.
Contact the writer at williamhennelly@chinadailyusa.com.