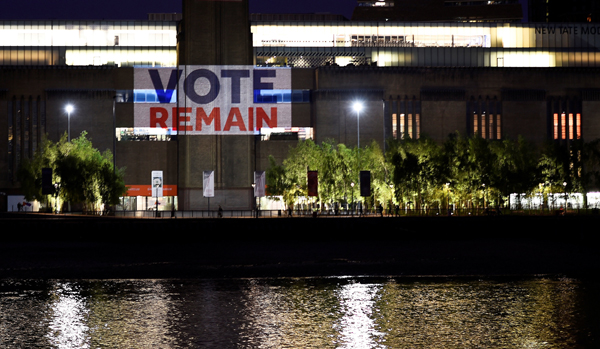 People walk along the river Thames past a 'Vote Remain' projection onto the exterior of Tate Modern, in the lead up to the EU referendum, in London, Britain June 21, 2016.[Photo/VCG]
LONDON -- The latest polls showed the "Leave" camp was tied with the "Remain" camp in the EU referendum to determine whether or not Britain should stay in the 28-member bloc.
The number of Remain supporters has grown just two days before the EU referendum.
According to a poll conducted by market research firm YouGov for The Times newspaper, the Leave side is now two points ahead of Remain, at 44 percent to 42, with the Leave camp gaining one point compared with the last poll results, while the Remain camp lost two points.
The poll by ORB International for The Telegraph newspaper showed Tuesday that 53 percent would vote stay, up five percentage points than a week ago to the 46 percent voting leave, down three points.