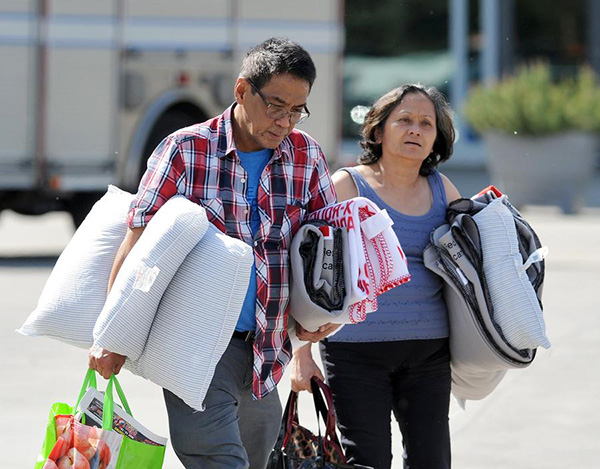 Evacuees from the Fort McMurray wildfire leave The Expo Centre after receiving bedding supplies in Edmonton, Alberta, May 4, 2016. [Photo/Agencies]
'Extreme wildfire behavior'
It was the second major blaze in the oil sands region in a year. Last May, wildfires led to the evacuation of hundreds of workers from the region, and a 9 percent cut in Alberta's oil sands output.
The wildfire's knock-on effects on oil sands operations escalated on Wednesday, with five companies including Suncor Energy and Husky Energy reporting reduced production either because workers had been affected by the mass evacuations or because of precautionary pipeline shutdowns.
The total impact on crude production volumes was not immediately clear.
Oil prices briefly rose on concerns about reduced output from the Canadian oil sands before paring gains on Wednesday.
Officials said very hot and dry conditions meant "extreme wildfire behavior" on all fronts around the fire late Wednesday.
"We expect this fire to be going on and challenging firefighters to well into the evening tonight," said Chad Morrison, senior manager with Alberta's Wildlife, Agriculture and Forestry.
The Canadian Red Cross said evacuees were calling the organization for help getting food and water.