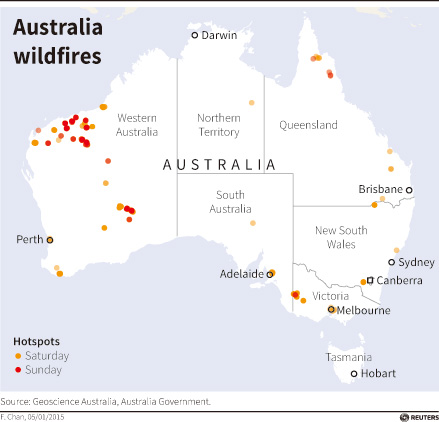 Map locates wildfire hotspots in Australia on Jan 4 and Jan 5. [Photo/Agencies] 
ADELAIDE, Australia - Firefighters in southern Australia were winning the battle on Tuesday to contain a sprawling wildfire raging on a 240-kilometer (150-mile) perimeter that has razed 38 homes and left two people in hospitals, officials said.
Hundreds of firefighters have struggled since Friday last week to control the blaze that has razed 12,500 hectares (31,000 acres) of farms and woodland in hills northwest of the South Australia state capital Adelaide.
"I'm happy to report we've made some significant progress on securing the outer perimeter during the course of the day and our crews will continue working into the night to secure the rest of the perimeter," Country Fire Service chief officer Greg Nettleton told reporters.
Firefighters were also close to securing the safety of 1,000 houses in unburnt pockets inside the fire zone and were managing to reopen some roads into scorched area, Nettleton said.
State Premier Jay Weatherill said assessment teams searching the destruction zone had found that 163 buildings including 38 homes had been destroyed or badly damaged by the blaze.
While 23 people had been admitted to hospitals due to the fire-related medical conditions and injuries, only two had yet to be discharged. A farmer was seriously injured when a tree fell on him and a second patient was being treated in hospital for fatigue, he said.
Destructive wildfires are common across much of Australia during the summer months. In 2009, wildfires killed 173 people and destroyed more than 2,000 homes in Victoria state.
The southern spring from September through November last year was Australia's hottest on record, the government's Bureau of Meteorology said in its annual climate statement on Tuesday.
The hot spring, including Australia's hottest November on record, set the stage for the current summer wildfire season to start early.