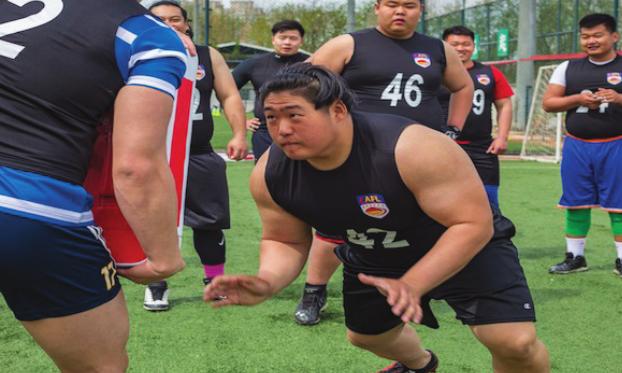 Prospective offensive linemen participate in a blocking drill during a China Arena Football League scouting combine in Beijing on April 16. PROVIDED TO CHINA DAILY
Taking a promotional page from the NFL playbook, the China Arena Football League (CAFL) is conducting its own scouting "combines".
A combine is something of a cattle call for players in which they are measured by size, strength, speed and even psychological fitness. The first CAFL combine was held on April 16 in Beijing and drew more than 170 prospects. A second combine will take place in Shanghai on April 23.
The CAFL pushed back its originally planned fall 2015 debut and now will launch in October with six teams, a new logo and an official Spalding football.
The combines piqued my curiosity because they show how serious the CAFL is about its on-field product. In the US, combines have become a closely watched ritual for American football fanatics, and the NFL's are covered intensively by the NFL Network, ESPN and across social media.
What adds to the excitement of a combine is how a player's stock can fluctuate based on his combine showing. That in turn translates to what round he is drafted in (if at all). A two-tenths-of-a-second difference in a 40-yard dash time could determine the difference between millions of dollars — in either direction.
"I can't say we were surprised by the depth of talent and value we saw today," Ed Wang, a former NFL offensive tackle and Virginia Tech standout, said after the April 16 combine. "I have been here in China working with the CAFL for two years now, and our staff had scouted these young men, so we knew we would get some quality players.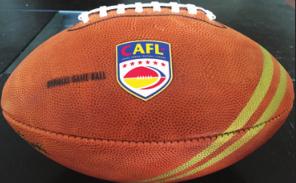 The official ball of the CAFL
"What does surprise me is the pure size and strength of some of them," said Wang, who himself played at 6 feet 5 and 315 pounds.
Although the CAFL expects to have some fairly bulky linemen, the quarterback position had been a concern.
"At first I thought all our quarterbacks would have to come from abroad, like (from) the US, but now I see some real talent, if not as starters, then certainly as backups, where they can learn under veteran pros from the US," said Ken Bozarth, CAFL head of football operations.
The enthusiasm about the future pro Chinese players is evident in a release describing the Beijing combine: "Photos are one thing — watching the athletes go through the vigorous tests and drills in real-time video is quite another.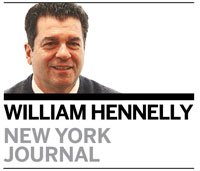 "In just three and a half years since founding China's first official university US-style football federation, the improvement is evident. Note the excellent footwork and lateral quickness of the athletes, as well as the size and muscle tone."
Arena football games are played indoors, eight men a side, on a 50-yard-long field (as opposed to the NFL's 100 yards) that is 85 feet wide.
AFL Global was created by Martin E. Judge Jr, whose IT staffing services company, The Judge Group, has been doing business in China for several years. In early 2012, Judge began planning to bring American-style arena football to China through AFL Global.
AFL Global, based in Conshohocken, Pennsylvania, is the parent company of the CAFL, which is in Beijing. The CAFL's training program began in May 2013 at six Chinese universities.
Those schools began playing each other in fall 2014, and many of those players will pop up on CAFL rosters. The franchises will field teams with roughly a 50-50 split between Chinese and American arena football players.
In November, in the Chinese University Football Championships, the Wuhan University Nine-Headed Warbirds came from behind to defeat the Shandong Flames, 34-24, in a crowd-pleaser to capture the Deheng Cup.
Lou Tilley, a former East Coast TV sportscaster who handles media relations for the CAFL, said the league would release team names and cities "pending our own national press conference, press releases and 'coming out' party in China".
He said that the inaugural teams will be in Tier-1 cities "and we will play in the best arenas".
"The CRFA (Chinese Rugby Football Association, the CAFL's government sponsor) thought it prudent to further develop a foothold for the sport in general in China as well as to give another full year of player development to the hopefuls we have been training," Tilley told China Daily.
If the league progresses as hoped, it might not be long before we see a Chinese mainland player in the US Arena Bowl — or even the Super Bowl.
Contact the writer at williamhennelly@chinadailyusa.com