Families express gratitude for all involved in search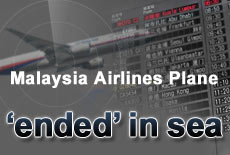 The families of the Chinese passengers of MH370 have thanked all the nations, including Malaysia, that are involved in the ongoing search for the missing flight that ended in the southern Indian Ocean.
The spokesman for the families of the 154 Chinese passengers, Jiang Hui, said that they have received much help and warm wishes from across the world, according to a blog post by the group on Monday.
"While we are still waiting for the latest information from the authorities, we received support from kindhearted Malaysians and others who prayed for our families on board the MH370 flight.
"We also want to thank the 26 nations involved in the search operations," Jiang told reporters after an hourlong prayer session for the passengers at Malaysia's Wisma Fo Guang Shan Buddhist temple in Petaling Jaya on Monday, Malaysia's New Straits Times reported.
Jiang said Chinese people are kind, but that in these trying times, emotions may run high.
He emphasized that their goal in going to Malaysia would not change: seeking the truth about the missing airliner.
Flight MH370 from Kuala Lumpur to Beijing vanished on March 8 carrying 239 passengers and crew, but more than three weeks later no wreckage has been found.
A high-level briefing by technical experts will be held for families of the Chinese passengers, said Malaysia's acting transport minister, Hishammuddin Hussein.
"The government is due to hold a high-level briefing soon for these families, to update them on the latest developments regarding the search for MH370," Hishammuddin said at a daily briefing on Monday.
"The briefing will include international experts who were not available during the briefings in Beijing, including experts from China. It will also be broadcast live to other families in Beijing."
On the investigations, Malaysia Airlines Chief Executive Officer Ahmad Jauhari Yahya said Malaysia is unable to give details on how MH370 turned back because investigators are still looking into it.
Malaysia Airlines also will be making arrangements to fly the family members to Perth only when it has been "authoritatively confirmed that the physical wreckage found is that of MH370", it said on Monday.
Arrangements will be made as soon as government agencies have provided clearance for Malaysia Airlines to take family members to the site where any aircraft wreckage that is found will be kept, it said.
All evidence collected about the missing flight so far points to it being lost in a remote part of the Indian Ocean, Australian Prime Minister Tony Abbott said on Monday.
"The accumulation of evidence is that the aircraft has been lost and it has been lost somewhere in the south of the Indian Ocean," AFP quoted Abbott as saying at the Perth military base coordinating the search.
Australia is coordinating the international hunt for the missing Boeing 777, which involves about 100 personnel searching from surveillance aircraft and 1,000 sailors in ships in or near the search zone.