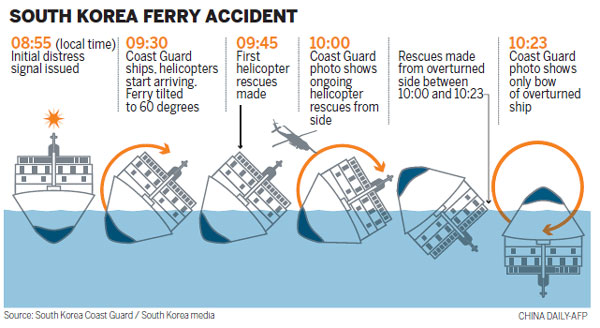 JINDO/SEOUL, South Korea -- The number of confirmed deaths in the ferry sinking off South Korea jumped to 25 early Friday, as a growing number of bodies were found floating in the sea apparently due to current shifts.
South Korea's Coast Guard said a total of 16 bodies were recovered since 6 pm Thursday.
Hundreds of divers continued a desperate search for any other survivors, with 271 people still unaccounted for.
They were battling against time, low visibility, low temperature and swift currents. They have also suffered difficulties approaching the submerged hull.
Coast guard officials expected the death toll to rise rapidly.
"Despite shortage of time for scientific analysis, it seems like that bodies have begun to spill out of the sunken ship due to current shifts," an official said.
All the bodies recovered so far were found floating, not directly from the hull.
The Sewol was heading to the Jeju Island when it sank off the southwestern coast, with 475 passengers and crew members aboard. They include 325 students and 15 teachers from Danwon High School in Ansan, just south of Seoul. The students were on a four-day field trip.
It would be the nation's biggest ferry disaster since 1993, when a vessel capsized off its west coast, killing 292 people.
The ship, which travels between Incheon and Jeju twice a week, was built in Japan in 1994. It is 146 meters long and 22 meters wide and has a maximum capacity of 921 people, 180 vehicles and 152 shipping containers at the same time.
Hunting for clues
As to the reason for the sinking of the 6,325-ton ferry, meanwhile, investigators are placing weight on the possibility of sudden cargo shifting.
It remains uncertain when the hull will be recovered.
Prosecutors and police raided the headquarters of the ferry's owner, Chonghaejin Marine Co., to secure information on the operation of the ferry, the Sewol.
Police are also looking into claims that the ship's captain, a 69-year-old man surnamed Lee, was among the first to leave the vessel. They said he may have violated seafarers' law by escaping the sinking ferry and leaving passengers behind in danger.
"I am sorry to the passengers and family members of the missing," Lee told reporters before entering the Coast Guard office.