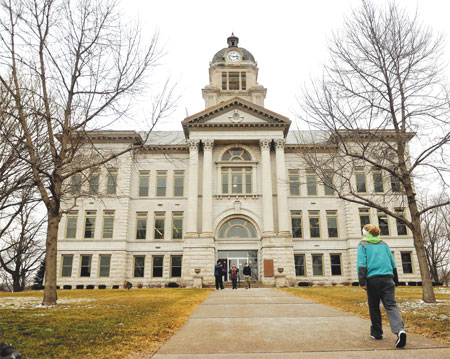 The town courthouse in the Iowa city of Muscatine, which has been developing a special relationship with China since 1985. Xinhua
Muscatine, a quiet Iowa city of about 23,000 on the Mississippi River, has been busy welcoming some Chinese guests with whom it has formed a new Sister-City relationship. A mayor-led delegation of Zhengding county of southwestern Hebei province in China visited Muscatine last weekend to mark the first anniversary of their sister-city bond.
Sarah Lande, a 76-year-old resident, is one of the key people who helped connect Muscatine and Zhengding. Lande calls herself someone from the "grassroots" level who helps bring people from both countries closer.
"It makes me so proud to think of this," Lande said.
Her influence in forming a strong friendship with China, she says, is from her "old friend" Chinese President Xi Jinping, whom she hosted when he was on a Hebei delegation as a Party official visiting the town in 1985.
A quiet town with the nick name "The Pearl City", Muscatine gained much media coverage during President Xi's visit two years ago (when he was vice-president). The President stopped by the small town during his State visit to the US to reunite with his Iowan friends.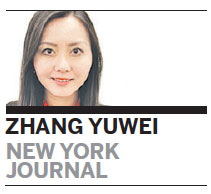 When Lande talked about her "old friend", she brought up that special visit by Xi in 2012. Sitting in Lande's living room, Xi's remarks touched their hearts, as Lande recalled. "You can't imagine how long I've been waiting to see my old friends," Xi said. "For me, you are America."
Xi's visit left an impression on the local community. DeWayne Hopkins, mayor of Muscatine, formed a Muscatine-China Initiative Committee after the president's visit to further boost ties between the county and China.
The visit of Mayor Yang Lizhong of Zhengding last weekend coincided with the opening of a photo exhibit in Muscatine entitled Beautiful Zhengding.
"There's just so much good rapport and feelings between Mayor Yang and his group and our mayor," said Lande, who accompanied both mayors in Washington last week for the annual Sister Cities International conference.
"We are just a big family and we all want people from both countries to know, understand and respect each other," said Lande.
The sister-city relationship with Zhengding has opened doors to opportunities beyond agricultural exchanges, what the city and Iowa are known for. Lande said the sister-city relationship has made a number of cultural and educational exchanges possible, with more in the works.
Zhengding No 1 High School has partnered with Muscatine High School since November 2012 and both schools have hosted visits by students and teachers ever since.
Wanxiang American Corp, the US subsidiary of China's auto-parts producer, signed an agreement with Muscatine as part of the State Department's "100,000 Strong Initiative" last year to sponsor local students to do short-term programs at a college in Hangzhou, the capital of east China's Zhejiang province where Wanxiang is headquartered.
"Now we are looking for many more ways to cooperate," said Lande.
Tony Joseph, owner and founder of Joseph Int'l Freight Service, a local company in Muscatine, is one of those who joined Lande to promote this friendship.
Joseph's two sons, aged 9 and 11, are learning Mandarin so that they can speak to their friends in Zhengding, where the family visited last year.
Joseph's visits to China have made him better understand the country and people. "We are getting a better understanding and genuine friendship, a true relationship-building between the provincial officials of Hebei and Mustacine," said Joseph.
Joseph's next China visit will be in July and he hopes to find some opportunities for his business in the next few months.
Lande's next China trip will be in mid May for the 60th anniversary of the Chinese People's Association for Friendship with Foreign Countries (CPAFFC)in Beijing. Lande is one of only eight Americans honored as a Friendship Ambassador by the association.
Traveling back and forth between China and Iowa makes Lande feel like a "global citizen", she said. "I want to have younger people to have more exchanges and it's such a grand opportunity for our two countries."
"I don't know if we will meet again in person," Lande said of her old friend Xi. But she fondly remembers a meeting hosted by President Xi and his wife Peng Liyuan two years ago in Beijing.
"She is gorgeous, I can't help it and I like her for her spirit," she recalled.
For Lande, China is part of her life now and she will continue to help promote a stronger friendship between Americans and Chinese.
"I hope we can spread that message to others and focus our time, love, energy and and then just having a good time together," she said.
Contact the writer at yuweizhang@chinadailyusa.com.