In today's trending, gangster movies help 13-year-old escape kidnapper, man writes huge Chinese character using salt, and donations pour for four-year-old boy.
Boy tricks kidnapper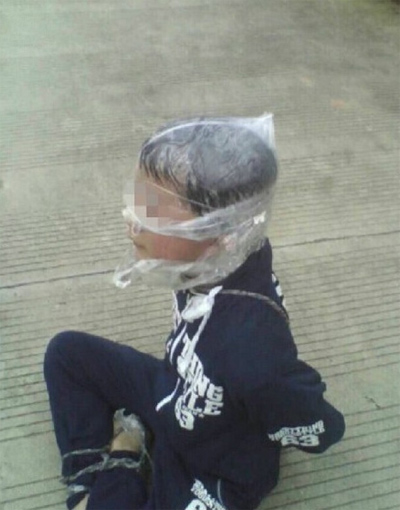 Villagers took a photo of Xiaoyi when rescuing him. [Photo/cnr.cn]
A boy outmaneuvered his kidnapper by using the tricks he learned from gangster films. Xiaoyi (pseudonym), who is 13 years old, was on his way to school on September 24 but was abducted and kept hostage in an abandoned house in Deyang city, Sichuan province.
"I knew it was useless to disobey him so I stopped calling for help and he stopped beating me," said Xiaoyi.
After the kidnapper left him alone at the house, Xiaoyi shouted twice to see if he was still around. No one responded so he freed himself from the rope but was caught when he tried to run away.
The second time he waited a long time and made sure the kidnapper drove away. Once the coast was clear, he jumped to the roadside and cried out for help.
A man driving along saw Xiaoyi and called the police and brought the villagers along to rescue the boy.
The kidnapper who had demanded 130,000 yuan ($20,462) from Xiaoyi's parents was caught in the evening in a local cyber café.
In our next story, a man creates huge character with salt.