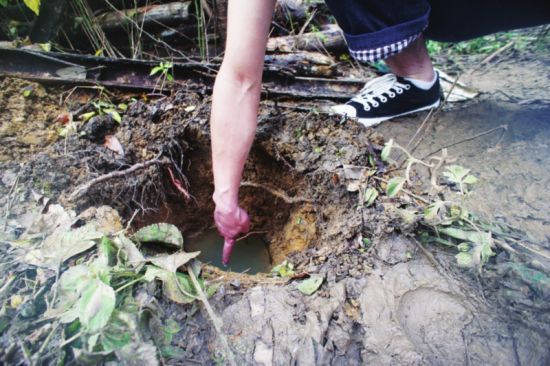 A villager points to a puddle where the mysterious water was found in a village in Anhui province. [Photo from web]
Mysterious underground boiling water found in village
Mysterious underground boiling water has appeared in a village in East China's Anhui province, Xin'an Evening News reported Wednesday.
Villagers found that a piece of land in the village has been steaming for half a month. "Starting from Saturday afternoon, the site sent out cracking sounds, in addition to steaming," said Liu Zhi, from Zan village in Liqiao township, Xuanzhou district, Xuancheng city of Anhui province.
The villagers moved bamboo poles covering the land and dug one meter deep, discovering boiling water down there. Initial measurement showed the water temperature went as high as 100 C and eggs could be cooked there, according to the villagers.
When the newspaper reporter visited the site on Tuesday morning and felt the water in the 20 cm wide puddle, he could still feel the heat although it was not boiling any more. The water has an unpleasant odor, according to the reporter. A young tree near the puddle has grown yellow leaves, which villagers said was baked yellow by the heat generated by the underground water. The water temperature remained as high as 60 C on Tuesday.
Local government departments of Xuancheng have visited the site and they are still investigating the cause. There have been a flurry of wild guesses. Some claimed it might be underground hot springs, some say it may be caused by underground pollution, or there was quick lime, or electric leakage. But all these possibilities have been ruled out.
That's all for today's trending, do check back tomorrow for more!