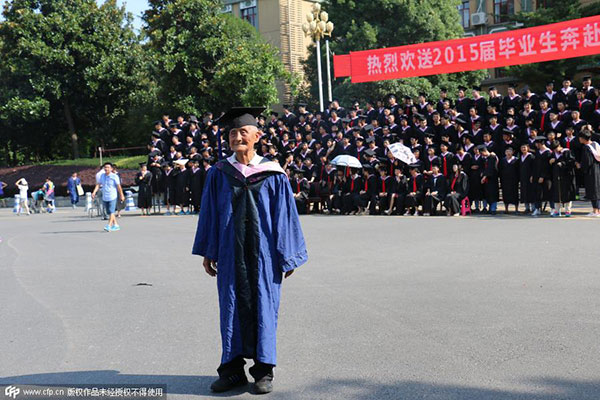 Zhang Renpeng in baccalaureate gown.[Photo/CFP]
84-year-old lifelong learner earns tennis degree
Visit the tennis courts of Wuhan Institute of Physical Education (WIPE), and you might find a very active 84-year-old Zhang Renpeng playing on it. He has been attending tennis classes here for 10 years. Zhang graduated to applause from his teachers and classmates this summer.
Zhang was a chief engineer before he retired. In 2006, he came to sit in on a tennis class taught by Wang Weimin. From then on, he started his 10-year audit of classes in WIPE.
His classmate during his undergraduate days, Li Kaijie, said although he lived far away in Hanyang District, Zhang was always the first to come and the last to go. Tennis professor Wang Kaijun also liked his elderly student, saying that he was always enthusiastic about his studies. Besides tennis, Zhang also took lessons in Photo Journalism, French, and Japanese.
In 2012, Zhang was diagnosed with prostate cancer. But these difficulties never stopped his commitment to learning. With approval from his supervisor Wang Kaijun, he began his 4-year master's degree course.
Zhang's wisdom and spirit had a great impact on people around him. His classmates liked talking to him. Zhang also shared his life experiences with his young classmates to encourage them.
He was grateful to his classmates who saved him a seat in front because of his poor hearing and teachers who offered extra help to him. After graduation, he became a teaching assistant of the tennis class. He still goes to school every day.
In our final story, mysterious underground boiling water mystifies villagers.