Bosses suspended after nurse slips into coma after drinking spree, outstanding migrant workers can earn permanent residency and Chinese catchphrase enters Urban Dictionary.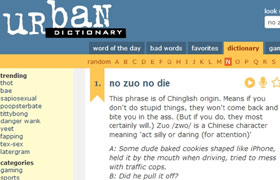 'No zuo no die' enters Urban Dictionary
The Chinese online catchphrase "No zuo no die" has been included in the Urban Dictionary, a popular online slang dictionary in the United States, and the news created a buzz among web users, the New Express Daily reported on Friday.
"No zuo no die" is a Chinglish phrase, in which "zuo" is the pinyin spelling of the Chinese word meaning do crazy things, and the other parts are English. The phrase means if you don't do stupid things, they won't come back and bite you in the backside.
Chinglish phrases "you can you up" meaning if you can do it then go and do it and "no can no BB" meaning if you can't do it then don't criticize it, were also included in the dictionary.
Related:
Chinese buzzwords popular on Urban Dictionary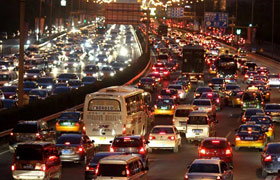 Beijing, Tianjin and Hebei mull unified traffic restrictions
Hebei province is considering introducing unified traffic restrictions to limit the number of cars in use based on number plates - together with Beijing and Tianjin - to control air pollution, said Yin Guangping, deputy director of the Environmental Protection Department of Hebei province, the Beijing Times reported on Friday.
Yin added that Hebei will conduct more joint emergency response measures with Beijing and Tianjin on heavily polluted days and will adopt the National V standard for automobile gasoline and diesel, equal to the Euro V vehicle emissions standard, as early as the end of next year.
Special:
Beijing integrates with Tianjin, Hebei

One-fifth of farmland polluted
Pollutants in more than 16 percent of Chinese soil exceed national standards, and for arable land the figure rises to almost19.6 percent, according to a Ministry of Environmental Protection and Ministry of Land and Resources report issued on Thursday, China Daily reported.
The results were described as "not optimistic" by experts who said the quality of arable land is worrying and that deserted industrial land suffers from serious problems.
Related:
Quality of arable land 'worrying'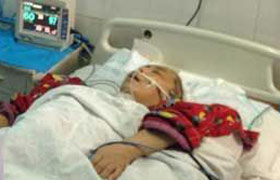 Nurse in coma after drinking with bosses
The story of a nurse who became drunk at a dinner with hospital officials and later collapsed, before going into a coma, went viral online as speculation rose that she might have been encouraged to drink by her bosses, people.com.cn reported on Friday.
Zhou Liyan, 54, from a general hospital affiliated to the Huaibei Mining Group in East China's Anhui province, was invited to the lunch on March 5 with two officials and another nurse. She allegedly drank three bottles of Chinese white wine and 10 bottles of beer. After 42 days in coma, doctors said she may be in a vegetative state.
The two officials, secretary of the Party committee at the hospital surnamed Liu and the hospital head surnamed Zhu, have been removed for "allowing her to get drunk despite the hospital's alcohol ban for lunch", the report said.
Related:
Chinese employer ties year-end bonuses to how much workers could drink

Permanent abode for migrant workers
Migrant workers winning the title "national model worker", a central government honor for outstanding contributions, can earn a Beijing permanent residence permit, or hukou, the city's Morning Post reported on Friday.
Three migrant workers have begun the procedure to get the permit, the report said.
Related:
Canned life for 'cupboard tribe'

Chicken bone leads to costly surgery
Surgery to remove a chicken bone from a Nanjing man's chest cost 170,000 yuan ($27,600), Modern Express reported on Wednesday. The man, surnamed Li, who is in his 40s, was unaware that the bone had punctured his esophagus and migrated downward. A month later, he got a high fever and sought medical attention. While in the hospital, he lost weight, dropping 15 kilograms.
Related:
Chicken bone penetrats digestive tract of 60-year-old man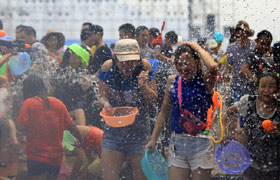 24 people at festival accused of molestation
Police in Xishuangbanna apprehended 23 people and detained one on charges of illegal sexual contact with women at the traditional Water Splashing Festival on Tuesday. A man surnamed Bi intentionally splashed water on the face of a young woman surnamed Li. And when Li tried to open her eyes, Bi allegedly groped her chest and waist. Police officers on the scene immediately arrested Bi, who came to the festival after drinking wine.
Related:
Thousands revel in the Songkran Festival water spree



Local govt repays 72-year-old debt
A county government has repaid two brothers for debts incurred by the army 72 years ago, China Military reported on Thursday. In April, the authorities in Loufa found brothers Zhou Qugui and Zhou Chenggui, whose grandfather lent 50 kilograms of grain to the army led by Communist Party during the War of Resistance Against Japan. The authority gave the brothers back three bags of powder, two bags of rice, a bottle of bean oil and 2,000 yuan in cash.
Related:
Govt urged to take care of parents who lose child