Many people have the same mixed feelings when planning a trip during Golden Week. With heaps of time, the seven-day Chinese National Day holiday could be the best occasion to enjoy a destination. However, it can also be the easiest way to ruin how you feel about a place and you may become more fatigued after the holiday, due to battling the large crowds.
During peak season, a dream about a place can turn to nightmare without careful planning, especially if you travel with children and older people. As most Chinese people will take the holiday to visit domestic tourist destinations, crowds and busy traffic are inevitable at most places.
Also to be expected are increasing transport and accommodation prices, with the possibility that there will be no rooms available. It is also common that you' ll wait in the line for one hour to get a ticket, and another two hours at the site, to only see a tiny bit of the place due to the crowds.
Last year, 428 million tourists traveled in China over the week-long holiday in October. Traveling during this period is a matter that needs thorough preparation. If you are short on time to plan the upcoming "Golden Week" it may not be a bad idea to avoid some of the most crowded places for now.
Here we listed the top 10 places in China with an overloaded history during peak season.
1.The Forbidden City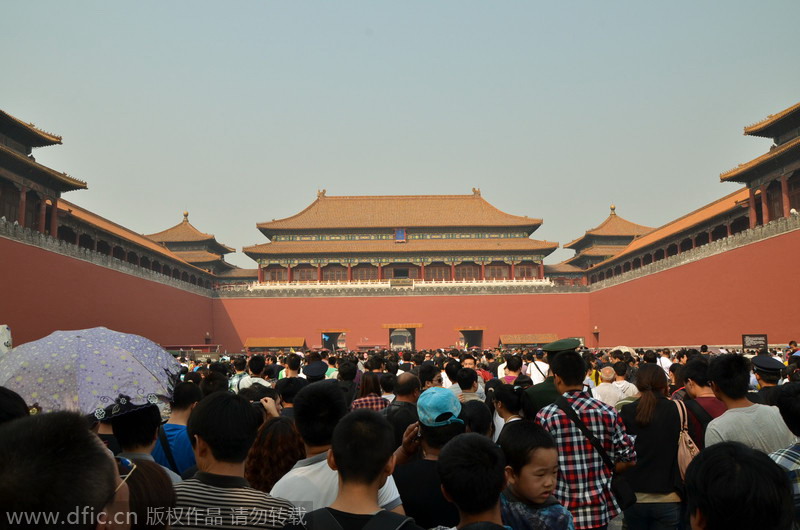 Tourists crowd the Forbidden City during the National Day holiday in Beijing, on Oct 2, 2012. Last year, the Forbidden City logged 170,000 visitors on an average day during the October "Golden Week", featuring tourists queuing outside the ticket office. [Photo/IC]