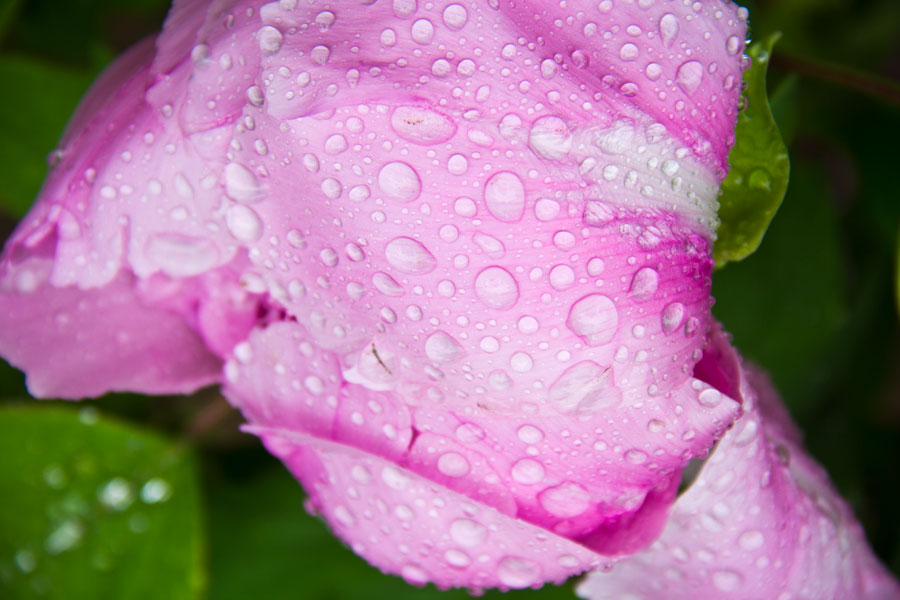 Light drizzle collects on the fully-bloomed petals of a peony at Jingshan Park. The park's Peony Festival will continue through to early May. [Photo/CRIENGLISH.com]
Timing is everything for flower enthusiasts, and the flowers in Beijing have a tight schedule to follow. Today, the time is ripe for voluptuous peonies and the flowers are as copious in number as the people straining to see them.
Even the spring showers couldn't deter the crowds on Thursday morning. One visitor, Ms Zhao, commented, "I think the weather is okay. Flowers are one way on a rainy day, and another way on a sunny day.
Some were even enthusiastic about the drizzly conditions. "The light is scattered on a cloudy day. I can take good pictures as the light is well-distributed," observed a man named Li Jin, carrying a heavy camera and tripod in his hand. He was particularly enamored by the bleeding hearts. "They're very beautiful. They look like hebao, a traditional Chinese decorative bag."
The peony garden is located by the park's east gate, but a variety of flowers are scattered throughout the park. The flowers will present a vibrant attraction through to early May, but just as quickly as they arrived, the flower petals will soon shrivel and plummet to the soils from which they sprang; then and only then will the park entry fee return to its regular low price of 2 yuan.
Entry Fee to the park during the Peony Festival: 10 yuan
Getting there: Jingshan Park is just north of the Forbidden City.