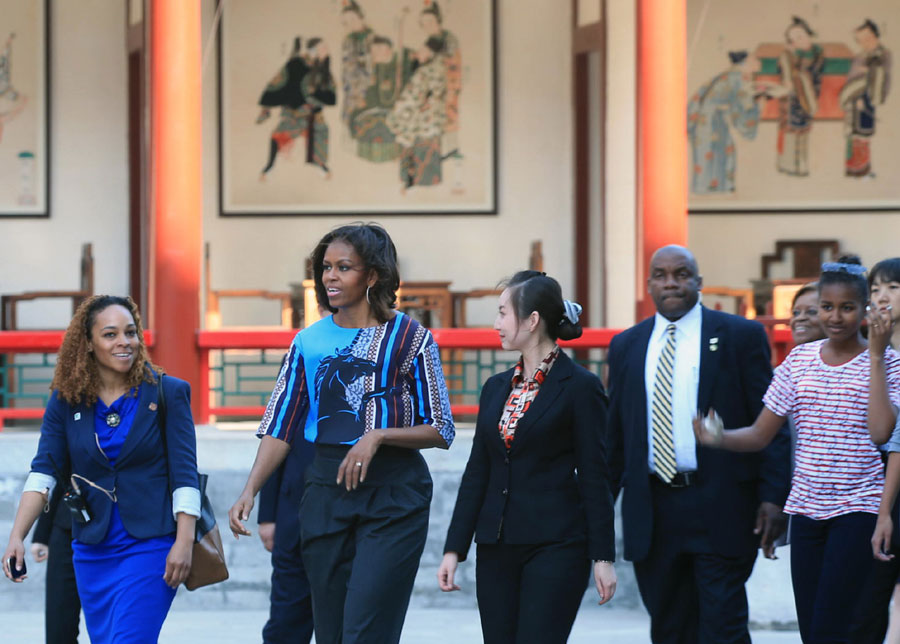 US first lady Michelle Obama (2nd L) walks with staff members as she and her daughters Malia and Sasha visit the Summer Palace in Beijing, March 22, 2014. US first lady met her Chinese counterpart on Friday, a long-anticipated encounter during a week-long trip to promote education and cultural ties.[Photo by Wang Jing/China Daily]
US first lady Michelle Obama was joined by US middle school students and their teachers as she watched a Peking Opera performance in the Summer Palace in Beijing today.
Mrs Obama and her mother and two daughters arrived at the opera stage inside the 126-year-old garden around 2:40 pm and watched a performance of Peking Opera with a monkey-themed story.
The students, mostly sixth to eighth graders from Thomas Middle School and Southern Middle School in Chicago, chose Chinese as their foreign language optional course.
Their Chinese teacher, Brenda Hsu, contacted the White House 10 days ago to see if the students could meet their country's First Lady in Beijing, and the meeting was confirmed March 19, a day after their arrival in China.
"We are very honored to meet the first lady here in Beijing, because she has been a very active supporter and promoter of education and cultural exchange," said Hsu.
One of her students, Mason Grabowski, 14, started learning Chinese four years ago and said it is the language of the future.
He also said that he thinks it will be useful "for business and job opportunities," and added "it is a hard language, but it is never too early to start learning it."
His classmate Tyler Harris said Chinese culture is fascinating, but the "tones of Mandarin are very difficult."
The students introduced themselves to Mrs Obama and talked about their courses.
Haley Skiko sat near Mrs Obama and her two daughters. "They're pretty and with perfect teeth," she said of the daughters.
Most of the students and teachers are aware of Mrs Obama's Let's Move campaign to tackle the epidemic of childhood obesity and they know about her devotion to education.
"She has been promoting important things and good values, and does a great job communicating with children," said Kathy Durand, a businesswoman from Chicago.
Ms. Durand joined the trip with her daughter Claire, 13, who is a student at Thomas Middle School. Claire was born in China and adopted by the Durand family when she was 1-year old.
"We want her to learn as much about Chinese culture as possible and it is fun that we learn it together," Kathy Durand said.
The Summer Palace landscape, consisting mainly of Longevity Hill and Kunming Lake, covers an area of 2.9 square kilometers, with much of it under water. The area's 70,000 square meters of land features a variety of palaces, gardens and other ancient-style architectural structures. Well known for its large and priceless collection of cultural relics, it was among the first group of historical and cultural heritage sites in China to be placed under special state protection.
Former British Prime Minister Edward Heath and former US President Gerald Ford visited the Summer Palace.
Specia:US first lady visits China