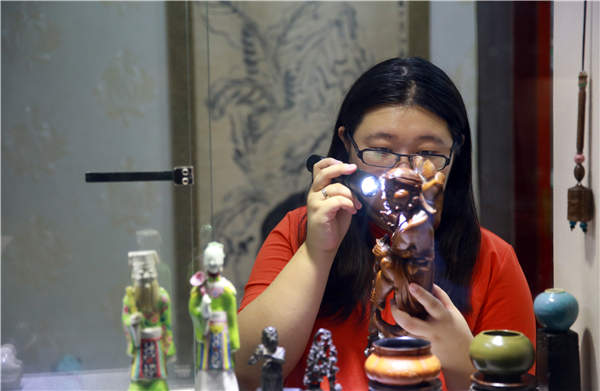 Wang Ge, one of a new breed of antiques dealers in Beijing. [Photo by Zou Hong/China Daily]
"They had their never-to-be-repeated opportunities, while we have our vision and learning," said Wang Ge, comparing the older generation of dealers with the new kids on the block, such as her.
Wang opened her own antiques store in Beijing earlier this year, having gained a MA degree in the study of artifacts at Durham University in the United Kingdom. Between school and her store, the 29-year-old worked as an intern at a number of UK auction houses and dealers.
For a few years, while the market was on an upswing, China's fuerdai, or second-generation rich, had collectively dabbled in the treacherous yet tempting waters of antique collecting, using the financial clout accumulated by their entrepreneurial parents.
Wang denied any association with the group. "My father is not particularly rich, but he did open the door for me," she said, recalling being taken as a child to the bustling weekly open-air antiques market in her home city of Hefei, capital of Anhui province.
There, the young girl encountered many low-level dealers-men and women who she now knows were classified as "groundcombers".
"They combed the countryside, knocking from door to door, offering money for whatever little antique pieces people had-a silver hairpin, a jade pendant or a century-old copper pot, for example," Wang said. "Some of them had even dealt with, or were linked with, tomb raiders."
According to Wang, while some of the groundcombers have since climbed the ladder to become her neighbors at a newly-built, well-equipped antiques market in the Chinese capital, the majority of these humble traders from her father's day simply faded away as the items they sought became increasingly hard to find.
"Those who have stayed are those who have consciously lifted themselves up to become dealers, often with a store, who other groundcombers regularly visit to trade their stuff. They must have also built up the expertise that allowed them to hold on to rarer and more precious things until prices rocketed," she said.
She described what she considers to be her biggest advantage. "The older generation lived during the best days of antique collecting in modern China, when real antiques were sold in open markets and stores at unbelievably low prices. The easy accessibility they enjoyed means that some of them have seen a lot and have accumulated a deep knowledge of the field," she said. "However, I believe that most of them, those who failed to trade up, hit a glass ceiling a long time ago. Operating at a relatively low level stopped them from seeing some really good stuff, as well as the business potential hidden out there."
The current market conditions have not been particularly painful for Wang. "By the time I came back to Beijing from the UK in mid-2011, there were already signs of an impending downward spiral amid all the frenzied buying and selling," she said. "The second half of last year saw the market grind to a near halt, but I opened my Beijing store a few months later. Why? Because this is my business, my career and my passion: I am here to stay."
In February, Wang returned to Hefei and paid a visit to the outdoor antique market, her childhood haunt. "New things and fakes filled my eyes. In fact, I found little reason to lean over for a closer look," she said. "For us, the only way is up."
Related:
Market meltdown leaves antiques dealers on the shelf