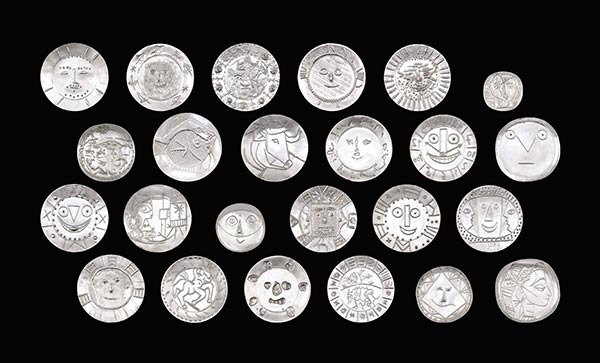 A complete set of 24 silver plates. [Photo provided to China Daily]
Besides his achievements in painting and sculpture, Pablo Picasso also found enjoyment in designing ceramics and metal wares.
A set of 24 silver plates Picasso designed with French silversmith Francois Hugo between 1956 and 1967 will be sold in a Hong Kong auction on June 23.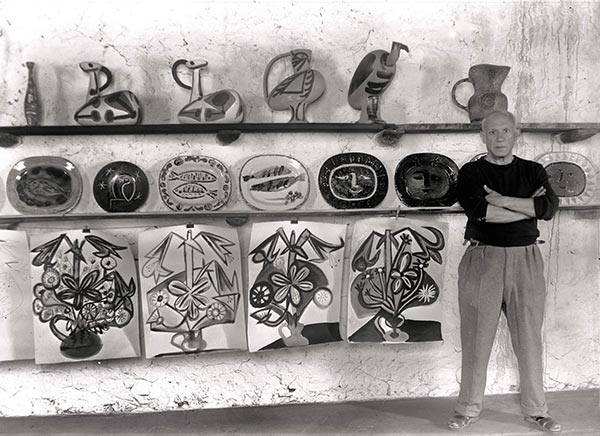 Pablo Picasso in Vallauris, in Madoura workshop, in about 1948. [Photo provided to China Daily]
Picasso's interest in designing metal wares was a continuation of his discovery of ceramics as a medium he loved. He visited an annual potter's exhibition in France's Vallauris in 1946, which incited his passion for creating ceramics in following years.
In the 1950s after he designed and modeled a series of plates, Picasso commissioned Francois Hugo, great-grandson of French writer Victor Hugo, to execute the same designs in gold and silver.
The silver set to be auctioned in Sotheby's Boundless Sales feature three motifs which are also seen in Picasso's other art outputs: Henri Matisse, bullfights and Jacqueline Roque.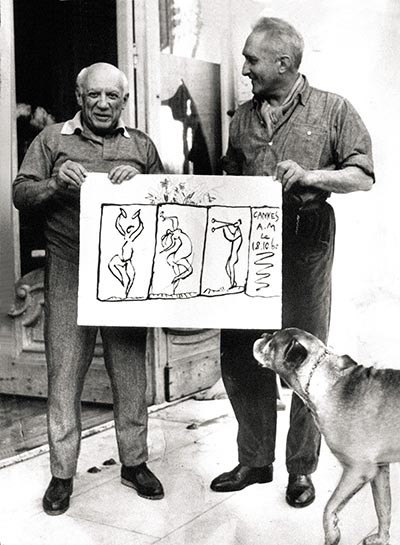 Pablo Picasso and François Hugo in Cannes, 1960. [Photo provided to China Daily]
The use of abstract elements in Matisse's works imposed great impact on Picasso, whose works show similar simple, organic lines.
A Spanish native, Picasso revisited the motifs of bulls, horses and horsemen in many of his works.
Jacqueline Roque was Picasso's second wife and his muse.
The set will be previewed at Sotheby's gallery in Hong Kong from June 17 to 23.
Related:
Wealthy Chinese turn to high-profile art purchases as investments