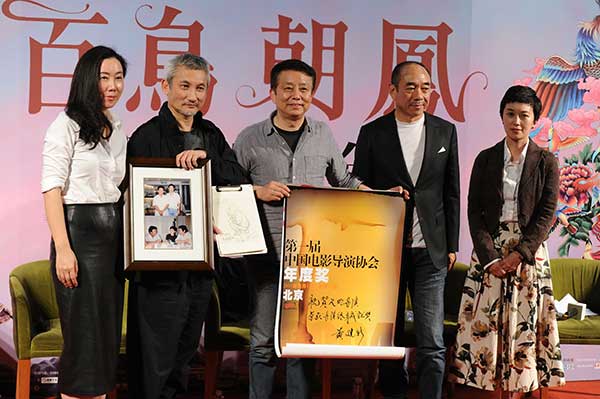 Veteran directors Tsui Hark (second left) and Huang Jianxin (center), alongside Song of Phoenix's lead actor Tao Zeru (second right), promote the late filmmaker Wu Tianming's final feature in Beijing.[Photo by Jiang Dong/China Daily]
Two years after prominent filmmaker Wu Tianming's death, his last directorial work will debut in the country's cinemas on Friday.
Wu, 74, died of a heart attack in Beijing on March 4, 2014, just a month after he finished Song of Phoenix.
The film revolves around an elderly suona (double-reed horn) performer's aim to pass on the art form amid its falling popularity in modern China.
"Wu was a remarkable and courageous man. He deserves to be not only remembered, but celebrated," says American director Martin Scorsese, in a video promoting the movie.
He was a man who stood up for his belief in freedom, freedom of expression and great human freedom, says the Hollywood icon.
"And, I share that belief."
Wu's name may not be well known to younger Chinese viewers, but he is widely hailed as one of the most influential and significant figures in Chinese cinema.
The former head of Xi'an Film Studio was instrumental in encouraging directors like Zhang Yimou and Chen Kaige after he took the position in 1983.
His studio reforms, which cut red tape, helped young filmmakers of that time to flourish and thrive.
There were many such instances, some of which were reported by the media.
In 1987, Zhang ran out of money while shooting his directorial debut Red Sorghum-which became the first Asian film to win a Golden Bear at the Berlin International Film Festival in 1988.
Wu then raised 40,000 yuan ($6,100) for Zhang, a big sum at the time.