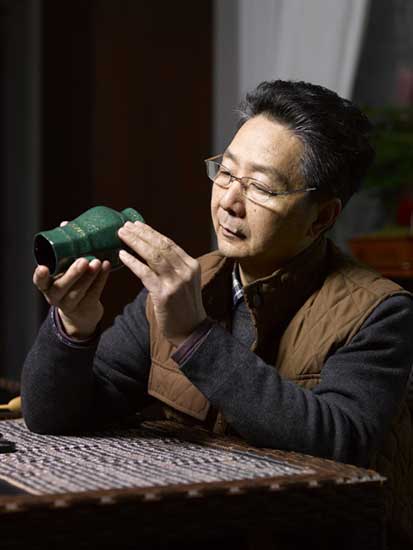 Gan Erke shows a lacquer piece he made.[Photo provided to China Daily]
From reviving skills to make lacquerware resembling rhino hide to drawing on porcelain plates, master craftsmen are tweaking their techniques to modern tastes. Wang Kaihao reports in Macao.
Gan Erke is not someone who agrees that Japan is the last word when it comes to lacquerware.
The 61-year-old from Huangshan, in East China's Anhui province, has spent years reviving a technique which gives lacquerware a texture resembling a rhino's hide.
"While Japan has very fine lacquerware, it's not acceptable that China, a big country with a rich culture, should not be a world class counterpart," Gan says.
Gan, certified as an inheritor of intangible cultural heritage, exhibited around 30 of his finest lacquerware at the first International Exposition of Intangible Cultural Heritage and Ancient Art in Macao in late April.
The event, held by the China Cultural Relic Protection Foundation, was an opportunity for him to attract global attention to his craft.
"When overseas visitors come to our country, they want to see something of the highest-level craftsmanship," says Gan.
"So assembly-line products will not do. If we want to show them something, we need to show them the best," he adds.
But he admits that no one is sure what the best is. That is something which he has pursued for a lifetime.
"We don't have the right to judge anyone else, but we can try our best. Nothing more is needed."
For him, that is the sprit of a craftsman, something that was advocated by Premier Li Keqiang while presenting his government work report in March, and has stirred wide discussion, since.
In 2002, when Gan decided to re-create hide-like lacquerware, which can be dated back to 2,000 years ago, he faced huge difficulties, though he has been a lacquerware craftsman since his teens.