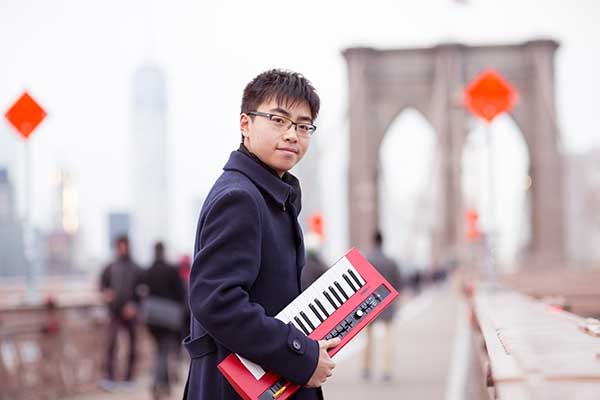 Dai Liang, also known as A Bu, a 16-year-old student at New York's Juilliard School, is seen by some as a rising star in China's jazz music scene.[Photo provided to China Daily]
In September 2013, American pianist Chick Corea performed at the annual Shanghai Jazz Festival.
To everyone's surprise, the Grammy-winning pianist invited a 14-year-old Chinese boy to play four hands with him. The improvisation was applauded by the audience.
The boy is Dai Liang, also known as A Bu. To express his excitement of working with the great pianist, he wrote a piece of music on returning to Beijing, titled Meet Mr Chick Corea.
Dai, now 16, is ready for his first tour of the Chinese mainland in May.
Along with Japanese bassist Kengo Nakamura and drummer Ryan. J. Lee, the trio will play Dai's original compositions as well as his arrangement of Chinese song Butterflies Fly in Pairs by Cantonese composer Chen Peixun. The song is part of his second album by the same name that will be released later in the year.
Dai is a student of classical piano and jazz at New York's Juilliard School.
He met Nakamura in New York last year and they played at a studio in the city. Lee played with Dai in France in 2014.
"We have never performed together as a trio. So I am very excited about the tour," Dai tells China Daily.
His first album, 88 Tones of Black and White, was out in 2014. It includes songs such as Giant Step that are known for difficult chord progressions.
"In the past two years, I have listened to it many a time. I'm not satisfied with the solo part I've played and I wouldn't call the album successful. But it was an unforgettable experience. It absolutely helped me to establish a new understanding of music," says Dai.