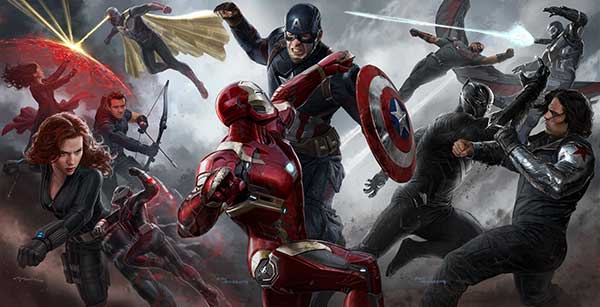 Superhero movie Captain America: Civil War will be screened in China on May 6.[Photo provided to China Daily]
Marvel's superhero alliance-one of the most powerful warrior communities in the comic world-is in tatters.
While this may spread gloom across the fictional land guarded by Iron Man, Captain America and their superhero friends, it is exciting news for fans: It has sparked the biggest fight in Marvel history, which spans nearly eight decades.
The 13th film in Marvel's cinematic universe, Captain America: Civil War-the third installment of the franchise-will hit Chinese mainland and North American theaters simultaneously on May 6.
On a recent tour to promote the movie in Beijing, Joe Russo, one of the sibling directors, tells China Daily the tale is now a "family conflict".
Picking up from the 2015 Marvel smash hit Avengers: Age of Ultron, or Avengers 2, the new movie expands on the divide in Avengers 2 between supporters of Iron Man and Captain America.
As concerns grow that the superheroes' unlimited powers may threaten humanity, the authorities want to regulate and direct their actions, which puts the superheroes in two camps.
The captain, played by Chris Evans, insists on maintaining free movement without government intervention, and he is backed by Falcon, Scarlet Witch, Winter Soldier, Hawkeye and the latest entrant, Ant Man.
But, surprisingly, Iron Man, reprised by Robert Downey Jr, supports the government's oversight and accountability plan.
Those who pick his side include Black Widow, The Vision, War Machine, the new Spider Man and Black Panther, appearing on the big screen for the first time.
"This movie is different from other Marvel films. It's bigger than all the previous ones, with heavy action sequences and a cast of big names," says Russo, who alongside his brother, Anthony Russo, won an Emmy Award for the comedy TV series, Arrested Development, in 2004.
"We're open to encouraging people to interpret the tale in any way that they want ... whether it's a love story or a brotherhood tale. They (the superheroes) have strong emotional bonds. It's a family drama," says Joe Russo.