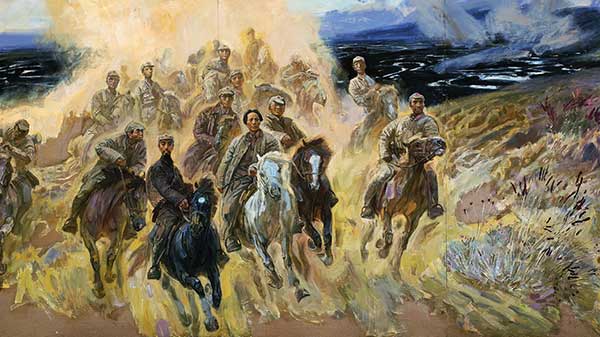 Shen Yaoyi's paintings depicting the historic Long March are now on display at Beijing's National Art Museum of China.[Photo provided to China Daily]
Elderly painter Shen Yaoyi's exhibition in Beijing marks both the end of the Long March and the 95th anniversary of the Communist Party of China. Lin Qi reports.
Chinese painter Shen Yaoyi has made the Long March the subject of his work over the past four decades.
His oil paintings, engravings and picture books re-create scenes from the tactical retreat of the Red Army to evade Kuomintang forces for two years starting in 1934. During the march, which included a series of movements through much of the country, the Communist troops traveled about 12,500 kilometers.
Shen, 73, a retired arts professor from the capital's Renmin University, is now showing dozens of his paintings at the National Art Museum of China.
In 2004, he had held a show of landscapes along the Long March at the same Beijing venue.