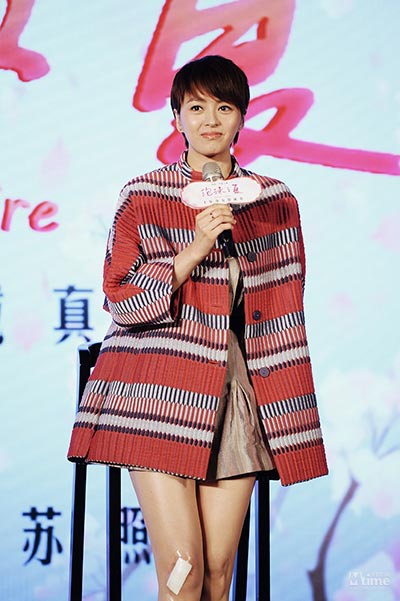 Gigi Leung. [Photo/Mtime]
For the first time in her career spanning 17 years, Hong Kong singer-actress Gigi Leung has opted to stand behind the spotlights.
Leung, who shot to fame with 1995 hit Full Throttle, was promoting her production debut, Summer's Desire, at a recent Beijing event.
The coming-of-age romance, which is set for a summer release, is inspired by best-selling author Ming Xiaoxi's novel of the same name. The book was published in 2006 and adapted into a TV series in 2010.
Centered on a romantic triangle, the tale is about a young woman caught between a suave millionaire and a rebellious pop singer.
Directed by Taiwan filmmaker Lai Jun-yu, the movie stars actress Huang Cancan, Hong Kong actor Law Chung-him and Chinese-Canadian actor Jerry Yan.
Lai says that the movie plot is a bit different from the original novel.
Leung, who shows up at the event on crutches, says the movie will have "an open ending".
"Even if I was the female protagonist, I would have no idea about my final option (of selecting which man to go with)," she says.
"The ambiguous ending is to let fans imagine one they prefer," says Leung.
Having worked in showbiz for nearly two decades, Leung says she hopes it will help her in her new role as a producer.
"Many stars hope to produce a film based on their own dreams. Personally, Summer's Desire is the kind of adult fairy tale that has been in my mind for a long time," she says.
To recreate the scenes in the novel, the movie was shot in Taiwan, Japan and South Korea.
Related:
China's domestic animated films see 78.6% box-office surge: report
Animators urged to do more for Chinese box office