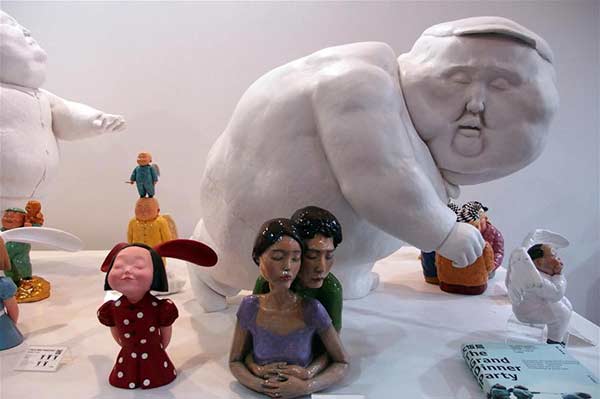 Photo taken on March 9, 2016 shows artworks at the "Design Shanghai 2016" in Shanghai, March 9, 2016. [Photo/Xinhua]
Dubai and Shanghai Monday agreed to collaborate in design knowledge exchange and increase inter-city relations relations.
The agreement was made during UNESCO's (United Nations Educational, Scientific and Cultural Organization) Creative City Shanghai and Dubai's annual art fair Art.
A Memorandum of Understanding (MoU) was signed between Liu Boying, Vice President of UNESCO Creative City Shanghai and Art Dubai Chief Executive, Benedict Floyd.
"The MoU's purpose is to closely collaborate with Shanghai's Creative and Design Scene and Art Dubai," Floyd told Xinhua.
"We are working on several fronts and this is a major one," he added.
Liu was joined by a delegation of 34 Chinese designers, art promoters and artists who arrived in Dubai on Saturday.
"This is the first time a delegation of Shanghai artists and designers participates at the fifth edition of Design Days Dubai," said Pan Jin, Vice Secretary of the Shanghai promotion office.
Design Days Dubai is under the Art Dubai umbrella, an exhibit of design products, paintings, sculptures, art tours and auctions taking place this week across Dubai.
Dillion Zhang, a Shanghai multimedia designer from the delegation said he was very excited about Dubai and the MoU.
"This is my first visit to Dubai and I hope to meet Arab designers and artists to exchange know-how and develop business ties with them," he said.
The MoU involves regular networking between both parties, exchanging design know-how, encouraging local Shanghai and Dubai designers to join exchange programs and exhibitions and to attend events in each other's city.
China's mega city of Shanghai joined UNESCO's Creative City Network as "City of Design," in 2010 when the metropolitan entertained global visitors to the 2010 Shanghai Expo.
The Gulf Arab metropolis and the Chinese port and business city have been sister cities since the year 2000.
"We expect 14,000 visitors, buyers, art aficionados and intellectuals this year from around the world," said Fair Director, Cyril Zammit.