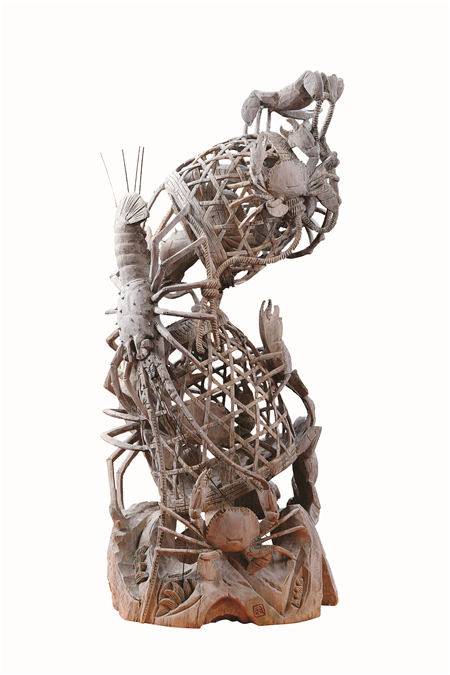 An artwork shown at the Aloeswood Museum. Photo provided to China Daily
A museum dedicated to aloeswood carvings and related art recently opened in Beijing's Dongcheng district. The private museum showcases a collection of more than 100 pieces of carvings using such resinous wood, as well as raw aloeswood of rare scales, including a giant trunk standing about 10 meters high in the courtyard of the house where it's located.
The items displayed are just a small part of the collection of Shen Chuxuan, the museum's founder.
The collection includes aloeswood products made both in China and other parts of the world, with some of the items dating back several centuries.
"My purpose (in starting the museum) is to offer an opportunity for more common people to understand aloeswood and involve them in efforts to protect the rare resource," Shen says.
He shows that resin coagulated on a tree's surface after it has suffered fungal infection owing to injuries gives a lasting pleasant fragrance.
A mixture of aloeswood and the resin has been used as material for incense sticks and medicine in China since ancient times.
Incense sticks made from aloeswood were particularly favored by royals in imperial China.
Such trees are soft enough to be used in making sculptures.
Many carved pieces in Shen's museum are done by Chen Peichen, an inheritor of Chaozhou-style woodcarving - a national intangible cultural heritage.