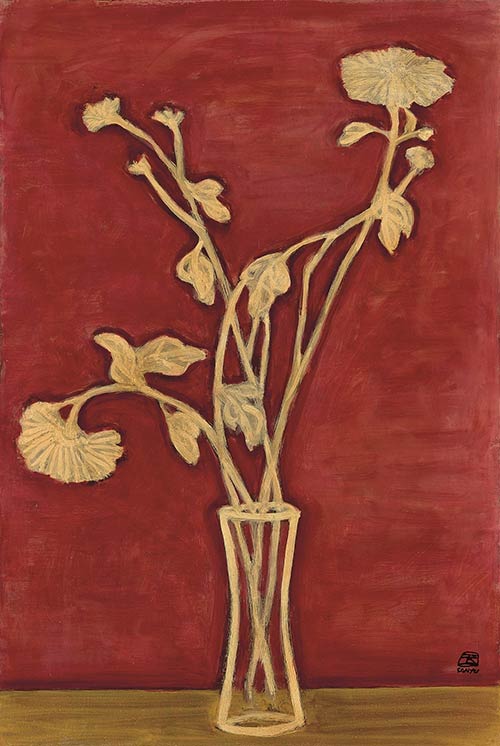 Vase of Chrysanthemums on a Yellow Table, by Sanyu. [Photo provided to China Daily]
Chinese-born painter Sanyu's (1901-66) canvas, Vase of Chrysanthemums on a Yellow Table sold for 46 million HK dollars ($5.97 million) at auction on Saturday night in Hong Kong.
The painting, produced in the 1940s, demonstrates Sanyu's minimalist approach that dominated his short-lived artistic career. It features only two colors – red and yellow – and very simple lining, by which Sanyu incorporated Chinese aesthetics into Western art language throughout his life.
The painting also shows Sanyu's favor of a triangle composition in his many flower-motif works. He painted a blossoming flower in the top right of the painting and a withering flower in the lower left, suggesting the start and the end of a life circle. Thus he communicated Chinese literary depth and a poetic touch.
The painting was the top lot of Christie's sale of Asian 20th century and contemporary art.
Sanyu was born Chang Yu, in a well-off family in Sichuan. He studied oil painting in France. Because his art was not widely recognized, Sanyu struggled financially. He died alone in his studio due to a gas leak.
Sanyu's paintings, however, have become sought-after at auction in recent years, and hence there are a lot of forgeries on the market.