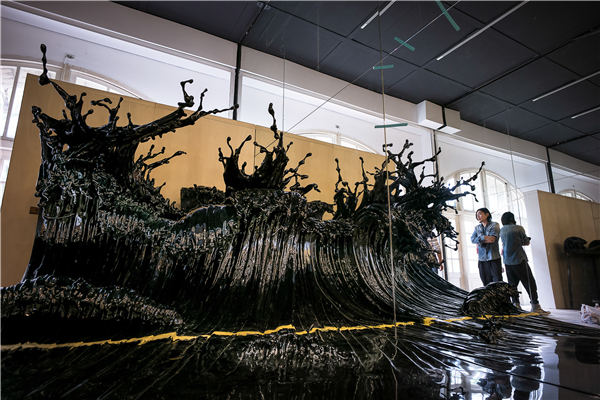 Shiosai, the centerpiece of Zheng Lu's solo exhibition. Photos provided to China Daily
Zheng Lu finds a unique source of inspiration to make his points about life and nature. Lin Qi reports.
Shiosai, the centerpiece of Zheng Lu's solo exhibition at the Museum of Contemporary Art, Taipei, is a piece of stainless steel that is in the form of billows.
The work, which is nearly 4 meters long, represents the sea - transitioning from still water to small sprays, and, finally, to huge waves that reach heights of 2 meters.
The work stuns with its effect of capturing the sea.
Zheng's work, which was produced this year, is named after a novel by prolific Japanese author Mishima Yukio (1925-70). The novel was published in 1954.
The story of Shiosai (the sound of waves) is centered on the coming-of-age romance and maturing of the protagonist, Shinji.
But Zheng's work emphasizes the transformation of water, the motif of his one-man show, also titled Shiosai, now on display at MoCA Taipei.
He also uses surging waves - a point where the installation ends - to portray the artist's dramatic life that first interested and triggered him to create the work.
"Mishima's writing style is quite feminine, delicate and picky with details. While he exercised hard to attain a masculine body shape, I'm more interested in his contradictory personality," Zheng, 37, tells China Daily in a recent interview in Beijing, where he lives and works.