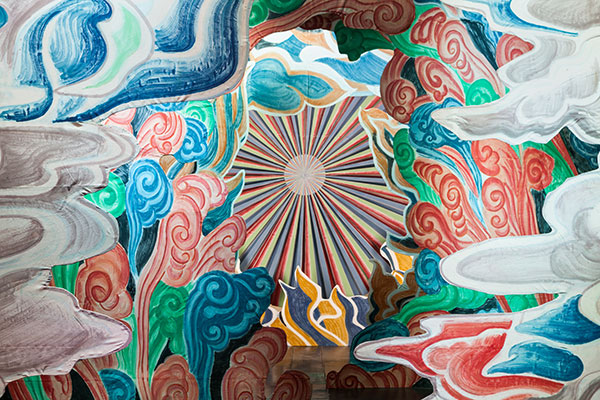 Wong's studies of Chinese opera and sci-fi movies lead him to create the installation Scenography for a Chinese Science-Fiction Opera. [Photo/China Daily]
Wong converted the nave of Ullens Center for Contemporary Art into a 3-D theater stage. A dozen wooden boards that reach the ceiling divide the space into two settings. The boards in the first setting were painted like the interior of a spaceship; in the second setting, the patterns of Chinese-style auspicious clouds on the boards form a traditional opera stage. Wong found inspiration in the painted murals in the Dunhuang Mogao Grottoes.
"Dunhuang cave art presents how the ancient Chinese perceived the universe, and how the sheer power of imagination motivated them to produce colors so full of tension," he says.
Visitors walk past the boards and through time. Then they come to the end and the climax, a huge, rotating and circular board with vivid colors.
Wong's studies of Cantonese Opera extended his attention to the film history of Hong Kong. He found that Cantonese Opera looked to the future in the process of being modernized by filmmaking.
"Opera performers also acted in movies. They often performed for Cantonese immigrants in California, from where they brought back home moviemaking techniques. They employed scenarios of Hollywood movies, and they adapted arias into pop melodies.
"Cantonese Opera absorbed various elements from outside. It has evolved to become a flexible art form that tells all kinds of stories and addresses any topic," he says.
Wong plans to make a film in the form of Chinese opera but about sci-fi subjects. He will incorporate an investigation of young opera performers. He is interested in how they switch between the circumstances of a long-standing art form and metropolitan life.