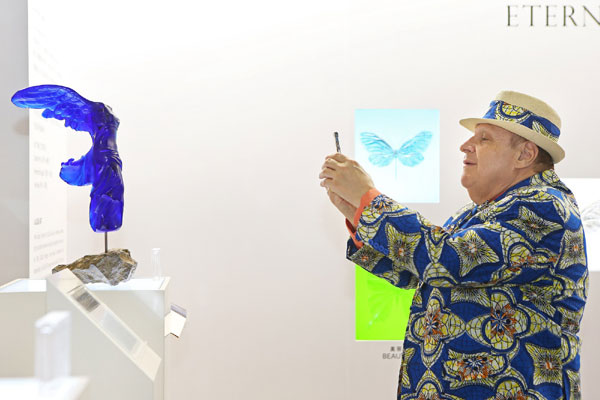 [Photo provided to China Daily]
But young artists and collectors can easily fall victim to market speculation. The desire for overnight success and quick returns may well conceal the immaturity of an artist or a piece of work.
Qiu Zhijie, an established artist and professor with Hangzhou-based China Academy of Art, recently wrote an article detailing 10 phenomena of how a booming market can influence art students' works. Students can become overly influenced by the market, leading to similarities in the motifs, materials and approaches that sell well, for example, infusion of Eastern and Western symbols, reproductions of classical paintings and repeated cliches from the performing arts.
Zhao Xiaoxiao from Beijing's Parkview Green Art gallery says they do find some familiar forms and derivative ideas in students' works when scouting art colleges for potential artists to work with.
"Young people today have access to a wide variety of art and artists from around the world. On one hand this can broaden their vision. On the other hand they find it more difficult to make a breakthrough. They need to put more efforts into creating an original work that encapsulates a fabulous idea. After all, only creativity can endure the test of time."
At the fair, the gallery displayed works from "mature" artists in their 30s with some market recognition. It also displayed works of recent art-school graduates to test buyers' reactions. The gallery has solo exhibitions planned for some of the artists, Zhao says.
Other artists chose to showcase their potential of growth via crossover platforms. Guo Tianyi, 28, had his pencil paintings and a video work on show at French jewelry brand Lailique's booth at the fair. His works were juxtaposed with crystal pieces that contemporary artists such as Damien Hirst were earlier commissioned to produce.
At the VIP night, Guo received the first Lailique Nova Art Prize, an award jointly presented by the company and Art Nova 100, a Beijing-based organization promoting young artists.
"Guo creates artworks as if he were in the middle of a time-consuming religious ritual. His investment of enormous energy in the work impressed the panel of judges," says Peng Wei, artistic director of Art Nova 100.