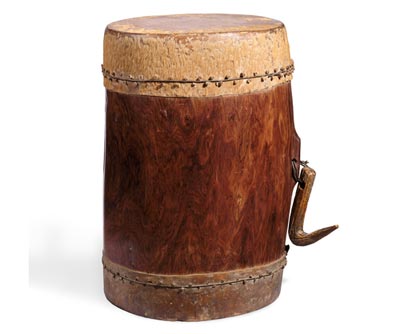 A round drum of the Li ethnic group made of huanghuali. Photo provided to China Daily
Since 1996, Lin started collecting huanghuali to satisfy his strong interest in the wood that's mainly produced in Hainan province. Lin visited Hainan countless times, often collecting wood from village houses. He made friends with local people and showed them his passion for the wood to convince them to sell it to him.
In addition to a factory of wood sculptures, He also set up a private museum in Xianyou, Fujian province, to display the art and culture for people interested in hunaghuali.
Talking about his company's first large-scale auction of huanghuali furniture, Lin says it's more like a platform to spread the culture of the wood and Ming-style furniture since the wood is hard to find on the market.
The Ming-style furniture—simple and elegant—has greatly influenced the history of modern Western furniture. When foreign powers attacked China at the beginning of last century, Chinese furniture culture was also taken to the West, where many museums in Europe and the United States have collections.