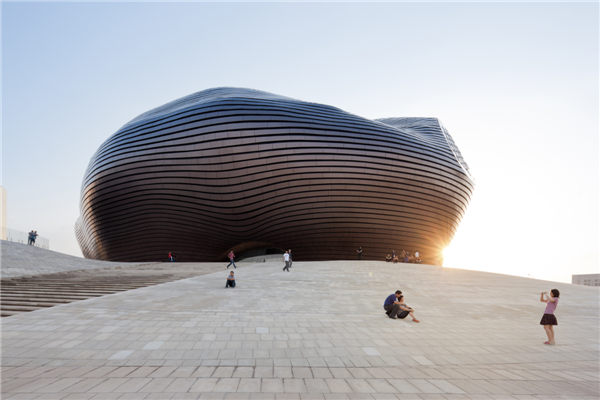 Designer Ma Yansong's ongoing project in Beijing is an artful combination of architecture and natural landscape. Photo by Iwan Baan/China Daily 
While details of the Lucas design have yet to be released to the public, Ma cites the Chaoyang Park Plaza in Beijing, as a recent major example of the shan shui approach. The project, which was launched in April, will cover more than 120,000 square meters of commercial and residential buildings in Beijing's central business district, located south of one of the city's largest parks.
Ma has designed towers of the buildings to resemble ridges and valleys that allow free flow of air. The project was given the "Leadership in Energy and Environmental Design" certification by US Green Building Council for the use of environmentally friendly technology.
But shan shui is not the same as the Western concept of "green" infrastructure, Ma says. "The green building is a technical concept. Shan shui is about the atmosphere between people and nature. It's spiritual. It's about the way you feel when you enter a building, if you feel comfortable or touched," Ma adds.
To create that feeling, the buildings are integrated with landscape elements. The two main towers are connected with a courtyard lobby. The sound of flowing water in the lobby adds to the feeling of a valley amid mountains. Terraces and courtyards on different floors are arranged to allow people to wander freely.
Ma, who grew up in the hutong (narrow lanes), has witnessed Beijing change over the past few decades through urban development. Architecture in modern Chinese cities has become about competition for wealth and power, without concerns for people or the environment, he says. "If the last 30 years were about accumulation, now is the time for redemption."