Air quality has become a big topic in recent years. Tens of millions of people across China have been forced to cope with high levels of PM2.5- particulate matter smaller than 2.5 micrometers in diameter that can penetrate the lungs and harm the respiratory, cardiovascular, cerebral vascular and nervous systems.
Air pollution is not just about sore throats, but really more of a matter of life or death. The harmful effects that smog can have on the human body are one of the top concerns among those who reside in the country's bigger cities.
As one result of the smog, Chinese artists have been creating various ways to voice their concern over air pollution through creative means such as action art, photography, painting, installations, film and dance.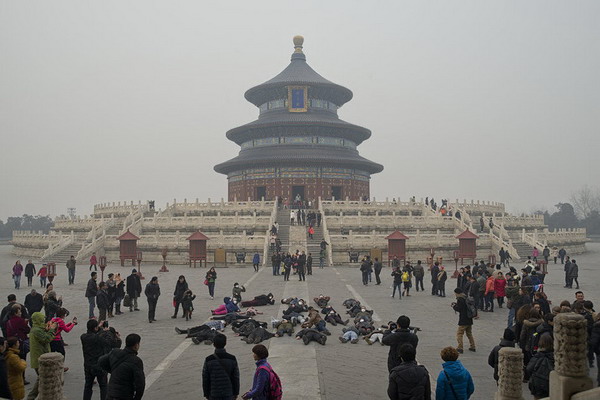 On Feb 25, Beijing, several artists pray for a blue sky before the Hall of Prayer for Good Harvest in Temple of Heaven Park. This type of action art calls attention to air pollution.[Photo/China.com]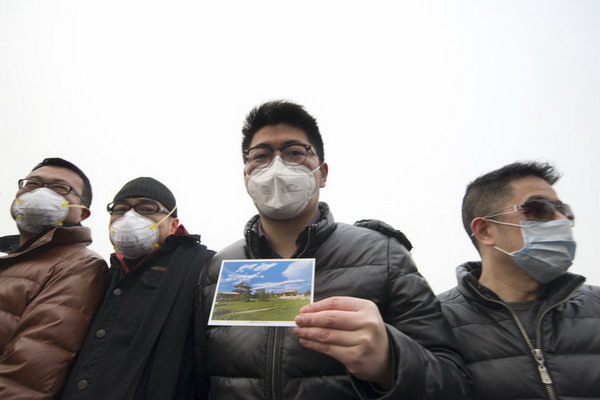 On Feb 25,Beijing, several artists pray for a blue sky before the Hall of Prayer for Good Harvest inTemple of Heaven Park. This type of action art calls attention to air pollution.An artist is holding a greeting card with a blue sky image. [Photo/China.com]