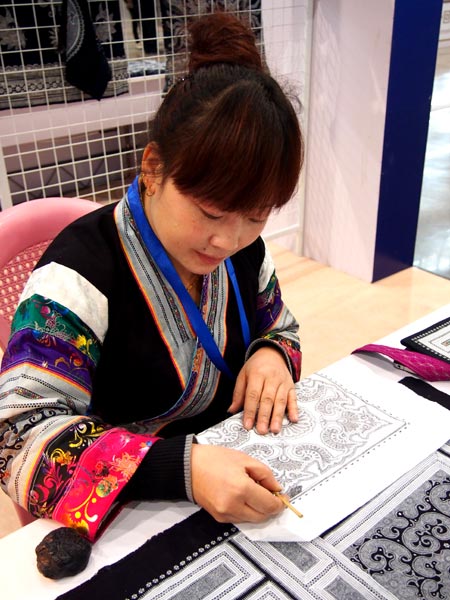 Cai Qun draws patterns for a batik design at her workshop at Dazhai village, Zhijin county in Guizhou province.  [Photo by Zeng Jun / for China Daily]
The women of Guizhou have turned their traditional batik dyeing and embroidery techniques into a source of income. Li Jun and Zhao Kai report from Guiyang.
Adecade ago, it seemed the best option for young people like Cai Qun from the mountainous areas of Guizhou province was to head to the cities in search of work. However, these days Cai would advise girls to stay in their villages, where there are more employment opportunities than before.
In 2009, Cai set up a small company making goods using the traditional batik and embroidery techniques of the Miao ethnic group. Employing dozens of local women, the company produces handmade goods with intricate designs that sell well overseas, particularly in Singapore and the United States.
When Cai left her village in 2000 at age 20, she never imagined she would end up running such a business. Instead, she was heading to Guiyang, the capital of Guizhou province, where her sister said she had found a job for her.
"But when I got there, I found out her work was collecting garbage at landfills." Cai says she was shocked and very sad.
Having no other options, Cai joined her sister in sorting garbage. "The days were rough. We had to wake up before sunrise to go to dumping sites and we worked until sunset."
After a month, she decided to try her luck elsewhere, heading to Shenzhen, Guangdong province, which was known for its population of migrant workers. But for a village woman with limited skills, the best job Cai could find in Shenzhen was as a waitress in restaurants.
The turning point came in 2006 when she participated in a contest on traditional handicraft skills in her hometown. The contest was aimed at finding new workers to design tourist goods for Guizhou province.
"Though I don't have any other skills, as a woman of the Miao ethnic group, I learned the skills of dyeing and embroidery from elders in my village when I was a little girl," says Cai. "That's basically all I learned in my entire life, so I decided to give the talent fair a try."
Batik is a technique for creating designs on cloth using wax and dye, while embroidery is used to add intricate patterns. In Guizhou province, local people of the Miao and Bouyei groups use these techniques to create images on traditional costumes, including plant and animal images with mythological significance. Because of its high aesthetic value, batik fabrics and artworks are put in display in museums around the world.