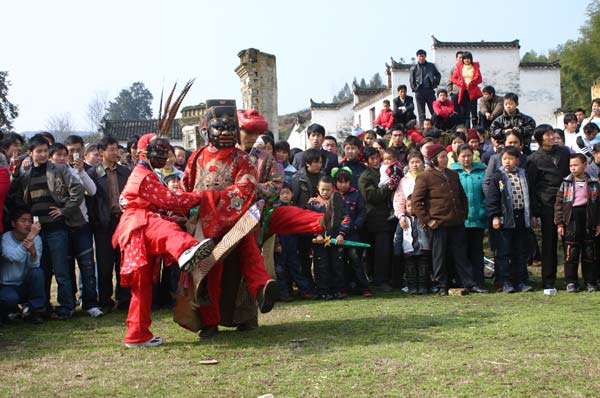 Performances of the 3,000-year-old Nuo Opera are still staged in rural areas in Jiangxi province, thanks to the efforts of generations of inheritors of the art form. Provided to China Daily
Zhang Zixuan explores the ancient rites of Nuo Opera as the cultural tradition struggles to survive.
Cheng Hanping spreads an exquisitely embroidered costume upon an iron plate, beneath which Chinese herbal medicines including angelica root are burning to dry any sweat and dampness in the fabric. "The costume draws in the medicine smoke so that it can be folded and stored without attracting worms," says the 46-year-old, standing beside several wood trunks dating from the 1920s. He then hangs several wood-carved and color-painted masks onto the wall, among the hundreds already there. The room, borrowed from a local primary school, is the inheritance base of Wuyuan Nuo Opera.
Cheng is the leader of Wuyuan county's last Nuo Opera troupe. What he and his fellow members perform at Changjing village in Jiangxi province, is a 3,000-year-old primitive religious sacrifice and exorcism ritual.
Originating in the Shang and Zhou dynasties (c. 16th century-256 BC) in China's Central Plain area, Nuo was rooted in totem worship and drew references from Taoism.
In the ages when humans had little understanding of nature, Nuo was once the most powerful and respected ceremony for countering natural disasters, devils and diseases. Ceremonial prayers were petitions for good harvests, longevity and other blessings.