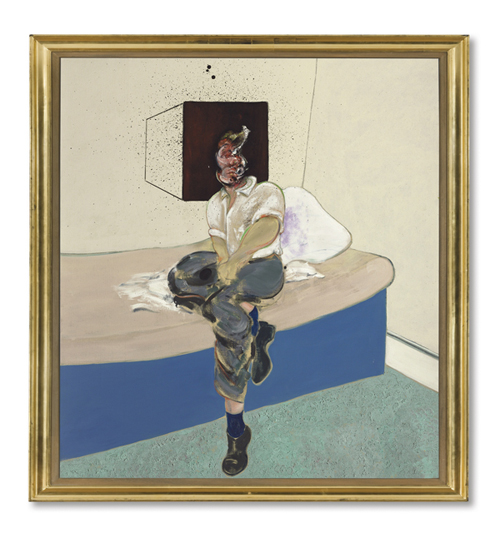 Francis Bacon's Study for Self-Portrait was sold for $33,632,135 in June, in London. Photo provided by Christie's
Christie's officials said the auction, and the jaw-dropping prices many works commanded, were evidence of the art market's strength, especially at its top echelons.
"Our top collectors bid very, very aggressively for the best of the best," said Brett Gorvy, Christie's head of postwar and contemporary art. "I really believe we are beginning something. This is not a bubble."
Jussi Pylkkanen, president and chairman of Christie's Europe who was also the auctioneer, said the sale's success was marked not only by the records, but by "the broad number of clients from all over the world" who participated, including collectors from 42 nations who had registered to bid.
"In the past three to four years, the market for great modern art has become global," he told Reuters. The record sale in May "was a marker for collectors of masterpieces," he said.
Auction officials have been putting forth the notion that new, deep-pocketed collectors from around the globe are driving prices for top-tier works to record levels, and Tuesday's results seemed to bear that out.
Before the sale, Gorvy said collectors from Asia, Russia and the Middle East, flush with cash, were determined to assemble world-class collections featuring trophy works.
"We are at a very very early stage of development for this market," he said afterward. "So many collectors from so many countries are coming into this market."
Among the sale's other highlights, Andy Warhol's "Coca-Cola (3) sold for $57.3 million, Mark Rothko's No. 11 (Untitled) fetched $46.1 million and Willem De Kooning's "Untitled VIII" set an artist's record when it fetched $32.1 million. It was one more than a dozen artist's records that fell.
Only six of the 69 works on offer failed to sell. The auctions continue on Wednesday with Sotheby's sale of post-war and contemporary art.
Related:
Bacon's portrait of lover to be auctioned
Top 10 Chinese painters and western artists