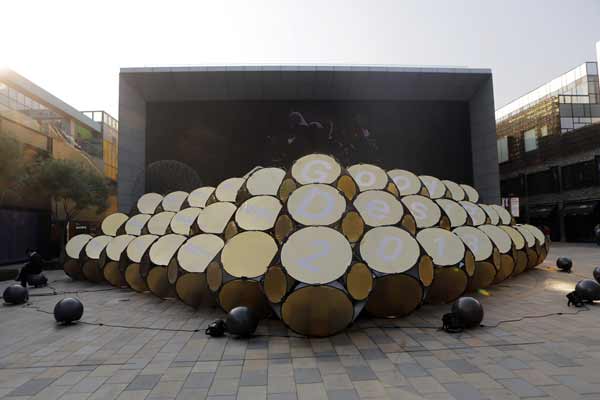 Good Design 2013 exhibition in Sanlitun, Beijing, China. [Photo provided to China Daily]
What will Chinese modern design look like in the future? Good Design 2013, a modern design exhibition that opened in Sanlitun on Thursday, attempts to answer that question.
The exhibition aims to promote designs that solve everyday problems in an innovative way at a time when design is often misused as a way to flaunt one's power and identity in China, says Chen Jiaojiao, curator of the exhibition and chief editor of Outlook Magazine, a leading visual and creative magazine in China that is hosting the event at Sanlitun's Orange Hall.
"By looking at these designs, we want to explore the direction for future designs in China," Chen says. "They should combine function with aesthetics. And they should relate to the contemporary life and solve our daily problems," Chen says.
The exhibition showcases works from established artists like architect Yungho Chang and furniture designer Shi Dayu, as well as ultramodern designers like architect Ma Yansong and fashion designer Zhou Xiangyu.
These two groups point to the major direction for future Chinese designs, says Chen.
"The younger generation were generally educated abroad and have little burden of the tradition, they are very free-spirited. While the older generation, like Yungho Chang, pay more attention to the modern life and weave their understanding of the tradition into their design solutions," Chen says.
One of Chen's personal favorites is Shi Dayu's bamboo furniture. Instead of nails or the traditional Chinese mortise-and-tenon works, the bamboos were joined with the internal tension within the material itself.
"Bamboo is a very traditional material in Chinese furniture making, but this is a brand new way to present this material," Chen says.
Another highlight is the Prototype for Temporary Sales Pavilion by architect Li Hu. Temporary sales pavilions have proven to be a waste in the real estate industry in China. For a more sustainable development, Li designed a prototype that can be dismantled and reassembled elsewhere.
At the opening ceremony, 22 artists were awarded as 2013 Creative Icons for their contribution to the creative industry. Among them are architect Ma Yansong, artist Qiu Xiaofei, fashion designer Zhou Xiangyu and musician Shao Yanpeng.
Lectures will be given through Sunday by designers including Yungho Chang, Shi Dayu and Eric Kessels.
If you go:
Good Design 2013
When: 10 am-10 pm, until Oct 21.
Where: The Orange Hall, 19 Sanlitun road, Chaoyang district, Beijing.