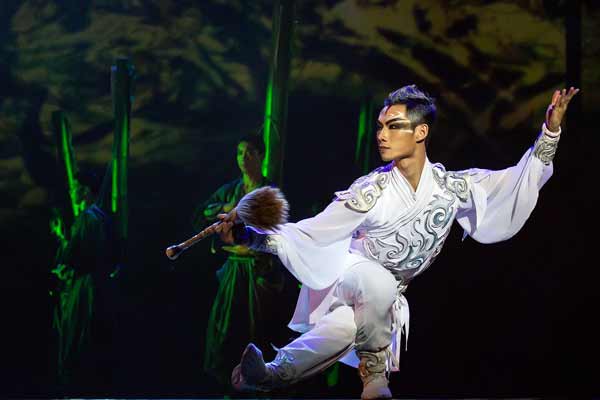 Tai chi master Ma Jianchao performs authentic moves in the show Taiji, a seamless incorporation of dance, tai chi and acrobatics. Photo provided to China Daily
Review | Raymong Zhou
Taiji kicked off its global tour on Oct 11 and, judging by the audience response, what happened at Beijing's Poly Theater may well be repeated around the world. And it does not really matter whether you are familiar with this particular Chinese martial arts practice, which is also spelt as tai chi.
A 90-minute extravaganza in visual splendor and acrobatic feats, this stage performance is a reminder of those eye-popping and mind-boggling Cirque du Soleil theme shows but with a distinct Chinese twist.
The use of tai chi as a leitmotif has proved to be a fountain of inspiration for every aspect of the show, from choreography to costume design.
You don't see the brightly colored Chinese symbols ubiquitous on such occasions. Instead, the stark black-and-white scheme has turned an otherwise busy program into a subdued exercise in balancing yin and yang, a theme inherent in tai chi and here infused throughout rather than outright stated.
Taiji has the structure of a dance drama, but at its heart it is a variety show.